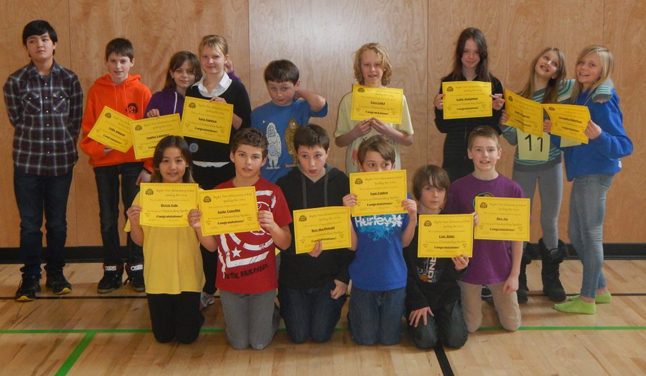 Begbie View held its school spelling bee last Wednesday, February 19.  There were 15 intermediate students who were challenged with increasingly difficult words they had to spell correctly over 16 rounds.
The final six rounds were a nail-biting rally between Jayke Coueffin and Sara Supinen.
Congratulations go to:  Cole Bibby, Jayke Coueffin, Sam Folden, Devyn Gale, Alex Jay, Colby Johnson, Kallie Kampman, Trevor Kozek, Sophia Laurence, Ezra Lebel, Ben MacDonald, William MacDonald, Alexandra Robertson, Sara Supinen and Halle Wolgram.  Alyssa Bollefer missed the bee due to illness.
First place went to Jayke Coueffin, second to Sara Supinen, and third place was a 3-way tie between Ezra Lebel, Colby Johnson and Devyn Gale.  These students will have the opportunity to advance to the District 19 Spelling Bee on March 4th, at 9 a.m. at Arrow Heights Elementary.
The Begbie View community is proud of all the students who participated in this bee.