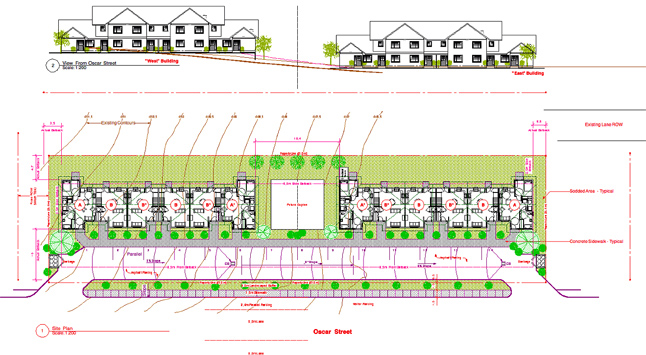 By David F. Rooney
The Columbia Basin Trust and BC Housing are committing $1,487,883 to the Revelstoke Affordable Housing Society's planned 12-unit condominium development at Bridge Creek Properties, Mark McKee told Council on Tuesday, February 25.
"Affordable rental housing is the most difficult thing to provide in a community," the chairman of the Revelstoke Community Housing Society said.
"If you looked at the whole province of British Columbia over the last 20 years you could count the number of private sector affordable housing projects on the fingers of one hand."
McKee said that while the group is waiting for a final go-ahead from BC Housing and the CBT, it has already submitted applications for a development permit and a development variance.
The project's site plan will require approval of variances by Council and the society needs a funding advance from BC Housing to proceed with architectural drawings and a property title transfer.
While it has taken two years to get to this stage, the 12 units planned for this project are badly needed. According to figures from the Canada Mortgage and Housing Corporation Revelstoke now has a 0.9 per cent vacancy rate, down from 29.4 per cent in 2012. Average monthly rents here are $717, $907 and $861 for one-, two and three-bedroom units, respectively.
Of 14 Columbia Basin communities for which housing statistics are available, only Castlegar has a tighter rental housing market than Revelstoke.
The need for affordable housing became apparent in 2006 after development of the ski hill thundered ahead alongside BC Hydro's Unit 5 project at the Revelstoke Generating Station. The number of rental units in town dried up and what units were available were extremely expensive. The market was so tight that Revelstoke could not attract middle-income staff such as nurses, teachers, Mounties and others. The society was formed in 2007 to tackle the issue. And the old Coop lands at Oscar Street and Powerhouse Road were identified as the ideal place to put future affordable housing.
The twelve units planned for this project are not the first ones built by the society, but they will be the first that will definitely qualify as "affordable" housing. The four one-bedroom condos will rent for $550 a month and the eight two-bedroom units will go for $750 a month.
That'[s a far cry from the society's first attempt at an affordable housing project. Each of the three-bedroom units in that Oscar Street duplex originally rented for $1,100 a month. They're now going for $950 a month and McKee told Councillor Linda Nixon that the society could sell them if it had to.
But that's not going to happen anytime soon. The society has a lot on its plate and wants these 12 new units to be a major success for the community. In fact, if everything falls into place as planned, there is (as you can see in the artist's conception, above) room for two additional units in the center of the project.
And when might these new rental units be available?
McKee told Council that the society still has to work out the criteria for prospective renters but it would like to have the first tenants in place by December, 2014.
Please click here to view the society's presentation to Council.