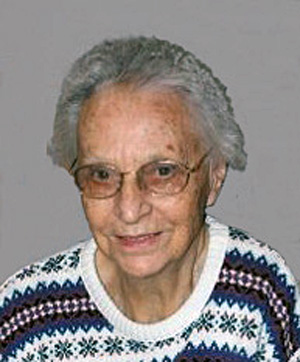 Mrs. Louise Mabel Waterson passed away at Bastion Place, Salmon Arm on Wednesday, December 25, 2013 at the age of 91 years.
A memorial service for the late Louise Waterson will be held in Sicamous in the spring of 2014 with interment of her cremated remains in the family plot of Mountain View Cemetery, Revelstoke.
Louise was born in Erpingham, England, on February 14, 1922, and had been a longtime resident of Sicamous.
Her gardens were her pride and joy. Spring through fall found Louise tending numerous flower beds as well as a vegetable garden. Many friends and neighbours reaped the benefits of her gardening expertise. In the winter months Louise was into crosswords and many types of needlecraft.
Louise is survived by her husband of 67 years, Rusty of Sicamous; two sons: Ralph (Judy) of Sicamous and Harley (Livia) of Surrey; two step grandchildren: Don (Angela) Waterson of Revelstoke, Dennis (Robin) Peterson of Vanderhoof and one sister, Margaret Graham of Armstrong.
Messages of condolence may be sent to the family by visiting Louise's obituary notice at www.brandonbowersfuneralhome.com
Cremation arrangements are in the care of Brandon Bowers Funeral Home, Revelstoke.