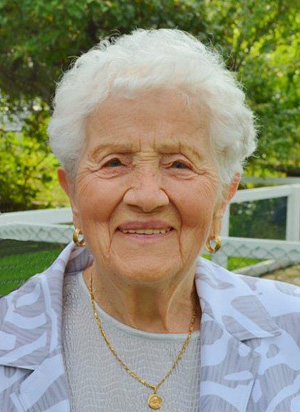 Mrs. Emily Augustyn passed away at Queen Victoria Hospital, Revelstoke on Tuesday, January 28, 2014 at the age of 88 years.  Prayers will be recited from St. Francis of Assisi Catholic Church on Friday evening, January 31 at 8 pm, followed by the Mass of Christian Burial on Saturday morning, February 1 at 10:30 am with Father Aaron de Dios celebrant. Burial will follow in the family plot of Mountain View Cemetery, Revelstoke.  Pallbearers are Kurtis Prescott, Adam Prescott, Daniel Brown, Steve Frick, John Kostiuk and John Prescott.
Emily was born in Manzano, Italy on December 21, 1925, and had been a resident of Revelstoke since 1956.  She loved gardening, her flowers, crocheting and cooking for her family.  Emily's grandchildren were her pride and joy and she loved spoiling them all.
Emily is survived by her husband of 58 years, John of Revelstoke; two daughters: Dolores Prescott and Christine (Barry) Brown, both of Revelstoke; four grandchildren: Kurtis Prescott and Adam Prescott, both of Revelstoke, Amanda (Steve) Frick of Salmon Arm and Daniel Brown of Kelowna; five grand dogs: Rocco, Lucca, Beny, Drake and Buddy; sister Gina Cattoni of Lethbridge; brother Francesco (Caroline) Vettori of Manzano, Italy; three nephews: Renzo Cattoni of Etobicoke, Ontario, Sergio (Renée) Cattoni of Lethbridge and Mauro Cattoni of Lethbridge; niece Doris (John) Kostiuk of Lethbridge as well as other family members in Italy.
Messages of condolence may be sent to Emily's family by viewing her obituary at www.brandonbowersfuneralhome.com.
Arrangements are in the care of Brandon Bowers Funeral Home, Revelstoke.