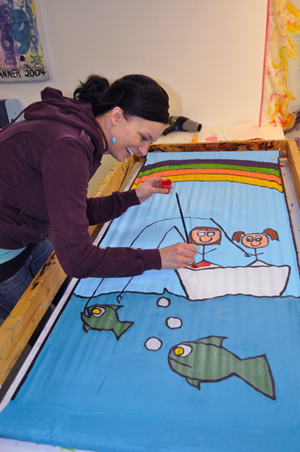 By David F. Rooney
For 26 years the ordinary men, women and children of Revelstoke have been the ones who ensure that our community puts its best foot forward. They've been doing that by creating the unique and colourful banners that flutter from Revelstoke's light standards each year.
Those banners are often the first distinctive thing that visitors notice and they love them. So, it's no surprise that this program has a life of its own as a mainstay of the community's artistic life. And now it's back with sessions on offer until March 2.
"It was very popular right from the very beginning," says Pat Anderson who first understood the appeal of a community-based banner program back in the late 1990s.
"Betty Olynyk and I were were down on the coast… and saw people painting banners," she said Saturday, January 18. "We were really struck by it and learned all we could."
The two painters brought their new-found knowledge back to Revelstoke in 1998 where a committee was organizing the festivities for the city's centennial in 1999.
From the very start, the banner program was a real hit. A different theme is picked each year — the theme for 2014 is wildflowers and wildlife of BC — and local artists are on hand to help people create their banners.
The cost per banner is $50 for children (who must be accompanied by an adult), $50 for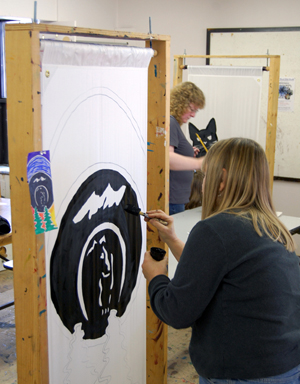 adults and $125 for businesses. Businesses that want to sponsor a banner can hire a professional artist to paint one for them for $150. Banners are hung in the spring and come down in the winter. They are then taken to the Community Centre where their creators can then pick them up and take them home.
You don't have to be a budding Picasso to participate in this unique and marvellous community program. You only have to be enthusiastic about our little mountain town and eager to impress the thousands of visitors who come here every spring, summer and fall.
Call the Community Centre at 250-837-9351 to register.