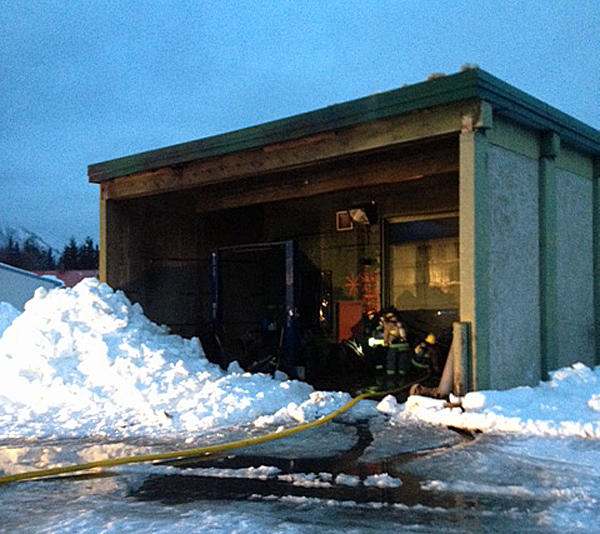 The morning of Monday, January 6, was a busy one for Revelstoke Fire Rescue Service firefighters who responded to two structure fires, starting with a 911 call of a commercial structure fire on the 700  block of Lundell Road.
"Fire Crews were met with heavy smoke from the rear of the building and quickly gained access through roll up doors of the structure and began fighting the fire," Fire Chief Rob Girard said in a statement.
The large truck repair shop, owned by Ross Lang, housed welding equipment, propane, flammable liquids and included 2 tractor trucks and snowmobiles.
"The nature of the business made it a dangerous situation for firefighters," Girard said, "and to make matters trickier, the local freight-courier company in the adjacent building had to move their goods to ensure their freight was protected during the fire attack."
Firefighters extinguished and overhauled the fire which extended into the layers of roof in just under five hours, with no injuries to any of the 20 fire personnel who responded to the 911 call.
"This truly was a really great save by our members considering the fire load and dangers associated with the building," Girard said. The fire is under investigation by Fire Inspector Roger Echlin.
The second fire of the day was immensely less explosive.
At 12:05 pm firefighters responded to a residential fire in the 1500 block of McKinnon Road.
"Upon arrival fire crews found a residence with minor wall damage as a result of a malfunctioned thermostat," Girard said in a statement.
"Luckily there was one occupant home at the time of the fire or it could have been much different."
He said fire crews checked for fire extension and mechanically ventilated the home.
No one was injured.