By David F. Rooney
As we enter the Christmas period, Fire Chief Rob Girard is cautioning Revelstokians to be particularly fire-conscious; in just the past seven days there have already been three house fires.
"People really need to be careful," he told The Current on Friday noting that the holiday party period carries particular dangers. "It's easy to be forgetful or do the wrong thing entirely. Nobody wants a major fire this Christmas."
S far we have been lucky that the three fires that have so far occurred were relatively minor.
The first fire was on December 7 when a do-it-yourself attempt to thaw frozen pipes with a space heater went badly wrong.
The next fire occurred on Wednesday, December 11, when fire erupted in the basement of a house on the 300 block of Pearkes Drive.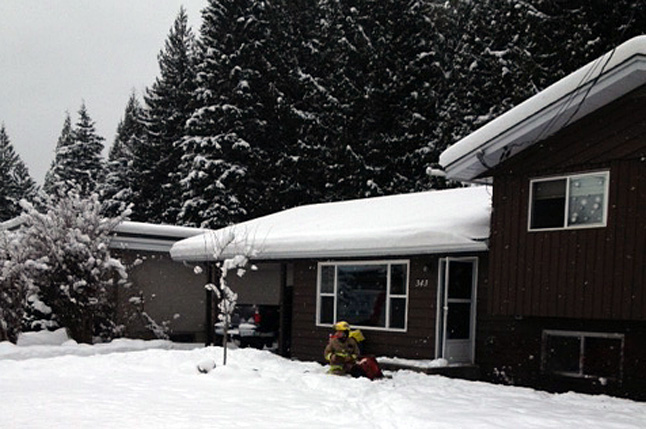 "Upon arrival fire crews descended into the basement of the residence to the area of the fire's origin," Girard said in a statement. "The fire was mostly extinguished by the quick actions of a neighbor using a bucket of water but the basement sustained medium smoke damage.
"Fire crews checked for fire extension and began mechanical ventilation to clear the residence of smoke."
The occupants of the home were out of the building when fire crews arrived and none of the24 firefighters were injured. However, the neighbor who actioned the fire was treated at the scene by the Fire Department First Responders and later by Paramedics for smoke inhalation, Girard said.
The family affected by the fire were assisted by Emergency Social Services volunteers.  As to the cause of the fire, the fire chief indicated that the fire was electrical in nature and is under investigation by Fire Inspector Roger Echlin.
The third and most recent fire occurred on Friday, December 13, on the 1000 block of Lundell.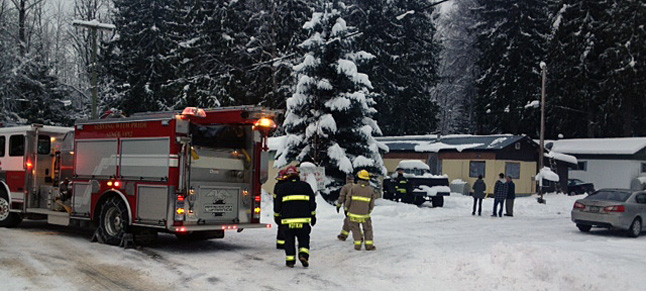 "Upon arrival the fire had burned itself out and fire crews did a primary search of the mobile home checking for fire extension and later performed mechanical ventilation," Girard said. "The two occupants of the residence were out of the building when fire crews first arrived on scene." He said the18 firefighters who responded overhauled the fire in just under 30 minutes. No one was injured but the mobile home sustained fire and smoke damage.  ESS volunteers helped the occupants find shelter.
As to the cause of the fire, which was contained to the main entrance of the home, the chief no cause could cause could be determined during the investigation.
Be that as it may, the fire said all residents should be very careful this Christmas season with decorative trees and their use of lights and extension cords.
Sadly, the Christmas season is often one of the busiest seasons of the year for fire crews everywhere in Canada.