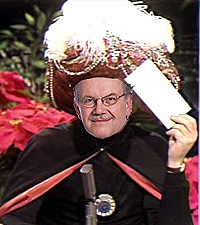 First a note of gratitude to my publisher and colleague for allowing The Great Bendinni to make it to his 10th. anniversary as this town's  most lucid and prolific predictor of things to come. Many thanks, David, for keeping your editor's pencil from Bendinni's deathless prose to ensure the Great One's amateur status is preserved by keeping his record intact at NOT one call being correct.
Prediction #10. Good luck with the new editor you will hire in '14, Toronto Ex-Mayor, Rob Ford. He will need work soon and will join the ranks of immigrants from the centre of the known universe that move to the 'Stoke for the small town life style but expect big city services and amenities.
Prediction #9.  A new pipeline will be routed through Revelstoke. It will meet with no opposition, require no environmental studies, no "consultants" will be hired and it will receive the unconditional blessing or the North Columbia Environmental Society. It will carry maple syrup from Quebec for a local restaurant that will grow to become the world's major supplier of maple flavoured poutine. This will be followed by another pipeline from Australia carrying Foster's lager.
Prediction #8. It will be discovered that Revelstoke's new and improved Kovach Skateboard Park was built on one of the richest oil deposits in western Canada. The Columbia Valley Skateboard Association stakeholders will mount another form letter campaign, this time offering stock options.
Prediction #7. The City will employ new technology as it drafts a new bylaw requiring that a sample of your dog's DNA must be supplied with every license application. The city will then use Bowser's biological bits to trace who hasn't been stooping and scooping. The Threat of public embarrassment can be a powerful motivator, however, police will issue a statement saying, "Yes, at times law enforcement can be a crappy job but we don't do doo doo and where would we store the evidence?"
Prediction #6.   Revelstoke drivers will start stopping at stop signs, signaling at turns and keep it to 50 kmph. on Victoria Road. This will happen when guys read Playboy for the articles and hang out in the supermarket for the music.
Prediction #5.   During this year's election a record number of candidates will promise a whole bunch of new services, lots of new bureaucratic schemes and vow to change the world…while reducing taxes. Now, that will probably happen (bet on it) but if it does, this prediction could ruin Bendinni's amateur status. However, a dark horse will top the polls by promising to cut hours at the rec. and pool centre, cut snow clearing of driveways, cut garbage collection to once a month, slash social service providers, dump the RCMP and try our own police force, paint the lines on the streets every 2 years and double rates for stalls at the Farmer's Market but, He/She will ensure the Rotary clock in Grizzly Plaza finally runs on time.
Prediction #4.  A new Adventure Park will be built on our outskirts but only when it's revealed to be an experience with a difference. The new plan will feature Grizzly Bear Wrestling (Ultimate Fighter style), zip line jousting (with real lances) and skunk cabbage patch hide and seek.
Prediction #3.   The new City of Revelstoke Customer Satisfaction Survey will undergo a name change to Customer Comments Collection. Really!  When was the last time you heard tell of a satisfied city customer (taxpayer) anywhere in any jurisdiction at any level of government?
Prediction #2.   Keep an eye open for a spate of new, positive signs painted on downtown sidewalks.  They will read, Welcome Tourists, We Don't Ticket Out of Town Drivers, Dog and Toque Spoken Here and Hug a Railroader and Logger.
Prediction #1.  Borrowing a page from his Toronto counterpart, Mayor Raven will call a press conference to admit he has used and may be addicted to snow. SKIING, of course!
Many of you have seen how he bombs North America's longest vertical, and being Revelstoke's premiere purveyor of putrid puns Mayor Dave will announce, "I am upping my 2014 contribution to the Food Bank. Please, up yours."
The Great Bendinni now returns to his retreat in the Himalayas for a full year of rest and recharging. It takes a great deal of energy to do justice to these predictions for a town of such high standards… and remember, your kids will seldom do what you say but they will do what you do.