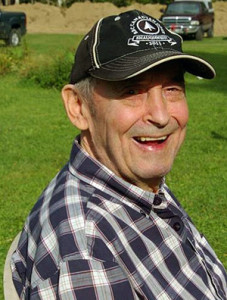 Cecil Edward Bennett passed away peacefully at Kelowna General Hospital on December 9, 2013, at the age of 76 years.  A Celebration of Cecil's life will take place in the spring of 2014.
Cecil was born in Lethbridge, Alberta on August 31, 1937 and grew up in Okotoks.  As a young man Cecil ventured out to the West Coast and secured work as an Accountant for Head Office at B.C. Hydro from 1966 to 1970.  During that time Cecil was on a committee doing a study of the Columbia River Power Houses and Dams.  In 1970 he moved on to the Mica Dam project where he worked with Columbia Hydro Construction.  In 1978 he and his entire crew moved on to Revelstoke where they worked on the Revelstoke Dam project until its completion in 1985.  Following this, Cecil worked with George Buhler and Larry Black for Ellison Enterprises and in 1986 went on to work with Tangiers Construction. Cecil met Ruth in 1978 and they were married in October 1981.  Not long after, Cecil and his wife Ruth moved to the West Kootenays to start their own Zero Clearance Fireplace business. During their time in this business they moved extensively and served all over the West and East Kootenay region.  In 1989 they returned to Revelstoke and enjoyed many activities in the community.  Cecil was very active with the Masonic Lodge joining in Revelstoke in 1975 and joining the Shriners in 1977.  He served as Worshipful Master in 2002, 2003 and 2006.  He was very active with the Shriner's Hospital committee and was able to help his granddaughter Amber get surgery and related treatment at the Shriner's Hospital in Portland, Oregon.  Cecil enjoyed life and saw the humour in everything.  He was always quick to share his never ending supply of jokes.  Many will remember his kind ways and his perpetual twinkle in his eye.  He loved to visit with his friends and could often be found in local restaurants having coffee and was often seen scooting around town on his scooter.  He was known as the best handyman by many of his friends, did awesome rock work and loved to travel.  Cecil was fortunate to be able to travel to Mexico with his family during the last few years.
He was predeceased by his parents, Anna and Earl, sister Bernice, brother, Leo his grandsons, Darcy and his beloved wife, Ruth.  Cecil is survived by three daughters: Sheri Zemp-Hegeduis (Csaba Hegeduis) of Fort McMurray, Linda Bennett and Dawn Miller; three sons: Cam (Carol) Zemp, Sheldon (Arlene) Zemp all of Whitecourt, Alberta and Kevin Zemp of Revelstoke; honourary daughter, Susan Whyte of Revelstoke; grandchildren: Ashley (Sheldon), Amber (Francis), Karlee (Kyle), Candice Dale (Jim), Candace (James), Derrick, Kyle, Jocelyn and Cassie; great grandchildren: Mariah, Darcy, Brooke, Autumn, Aksel, Karter, Alyssa, Austin and Beth, as well as his brother Earl (Amy) Bennett of Whitehorse, Yukon and honourary sister, Bernice Corneliuson of Revelstoke.