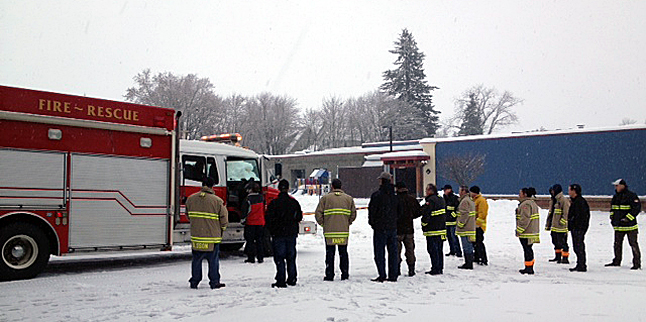 By David F. Rooney
Revelstoke's Highway Rescue Service resumed duty with a leased rescue truck at 4 pm Monday, December 30, 10 days after the original truck was badly damaged on the Trans Canada.
The rescue truck spun out on black ice near the Parks Canada inter-change. No one was injured but the truck, which was purchased for $200,000 (much of it donated money) a decade ago, was completely out of commission. Eagle Valley Rescue, the Golden Fire Department and Mica Fire Rescue filled in until arrangements could be made to replace the smashed-up Revelstoke truck.
The arrangements have now been made.
"The lease on the rescue truck is $4,500 per month for the first six months and $2,750 thereafter which is funded by the province," Fire Chief Rob Girard told The Current. "Early indications by Emergency Measures BC is that they would like a replacement truck in place for us as quickly as possible.
"As for a replacement rescue truck, it would be hard to say this early in the process so I really don't know what the replacement cost would be at this time."
Chief Girard said the leased truck virtually looks the same as the damaged vehicle and 22 Firefighters spent last Sunday training and transferring the equipment to this truck.
"I saw the training first hand and was very impressed to see the Firefighters attend this training session and work hard putting the leased truck into service," Councilor Phil Welock said in a statement announcing the leased vehicle's arrival.
"You can see the commitment our firefighters place on this valuable service they perform on our highways."
The leased Rescue 1, which comes from Safe Tech in the Lower Mainland, is an interim measure until a permanent replacement is secured. Finding one during the Christmas Season certainly posed a challenge, said Mayor David Raven.
"It is all about saving lives on our highways," he said "This vehicle gets our firefighters back to doing what they do best and their commitment to the service is commendable."
Please click here to read our original story about the Rescue Truck's accident.