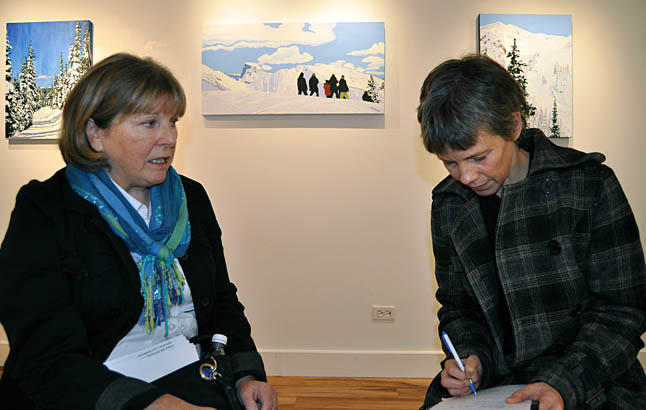 By Laura Stovel
Julie Kozek's acrylic paintings, inspired by skiing on a spring day at Revelstoke Mountain Resort, are so vivid that the viewer can vicariously feel the moment, smell the balsam trees and bask in the sunshine just by looking at them.
In her first solo exhibition, held at the Revelstoke Visual Arts Centre, Kozek captures moments of awe that all outdoor enthusiasts in this area can relate to. These are the quiet moments, the moments of perfect sunshine on the ski trail when the sky is so blue and the surrounding mountains so clear they take your breath away.
As Kozek described the day at the resort that inspired the images, "It was a perfect spring day.  It was really sunny and overwhelming and that's what I tried to capture."
One large painting that Kozek calls Magnetic Pause captures the place where skiers pause and view the majesty of the mountains before descending the slopes. "Everyone stops there and looks at the view," she said.
Another pair of paintings show the cat trails at the end of the day when the balsam trees cast long shadows across the trail. "The balsam trees were really fragrant," she said and she tried to capture that sensory experience.
Kozek grew up in Revelstoke and has lived here almost all her life. "I really like the mountains," she said. "As an artist, this area is really inspiring. You walk around and you are always observing the surroundings, seeing the colours and the flowers."
Her first artistic medium was watercolour painting and she did a lot of still-lifes: flowers and images of Mount Begbie. She eventually took courses on acrylic painting with artist Barbara May which inspired her to be more daring and abstract in her painting.
Painting these images presented some real challenges for Kozek. "Snow is tricky. There are about five different blues in snow – in the sunlight, in shadows, and then dark spots in shadows." In this exhibit she also experimented with skies and the sun. In one painting she captures an almost-explosive sun shining through the balsams. "There are a lot of ice crystals in the air and the sun just blows up," she explained.
Her next artistic step is "just to become a bit bolder" in her painting. "I think that's an artist's life: to be always evolving, trying new challenges and new mediums," she said.
Kozek said she hopes that skiers, in particular, will visit the gallery or attend the opening on Friday, November 8, from 6 pm to 9 pm.