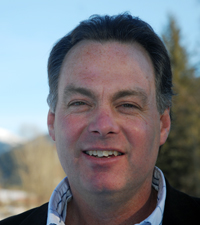 We live in one of the most beautiful, natural settings in the world.  In the communities I represent, we hunt, fish, gather firewood, snowmobile, ski, hike and bike on the Crown Land that surrounds us.  And many actually make their living on the land.
We know the land and we understand the land.  And decisions that are made concerning the land base can have serious repercussions on our lives and our economy.
It is for this reason that we need to have a say on what happens on the land that we live on.  But the Premier doesn't agree.
One of the most successful examples of community participation in land use planning has been the Golden Backcountry Recreational Access Plan (GBRAP). The plan was developed by local stakeholders and users to establish patterns of recreational use in order to maintain valuable recreations experiences, promote and manage tourism, and manage our impact on important wildlife habitat.  But we now hear that after more than a decade of honouring GBRAP, the BC Liberals have instructed staff that GBRAP should be ignored.
And attempts by local residents in the Upper Columbia Valley to create their own Backcountry Recreational Access Plan were actively undermined by the BC Liberals with clear instructions to ministry staff not to participate.  This is the same geographic area where the BC Liberals placed 6000 hectares of public land into the hands of Jumbo Glacier Resort, against the wishes of local people.
I believe that one of the fundamental principles of our democracy must be the ability of local people to make decisions about their land base.  The BC Liberals believe exactly the opposite.
If you think that your opinion should matter, speak out.  Tell the Premier what you think by emailing premier@gov.bc.ca and norm.macdonald.mla@leg.bc.ca.
You can also support organizations that are committed to making the best decisions for our natural resources.
And I will continue to work as hard as I can as your MLA to ensure that you have a say on what happens on the land.
MLA for Columbia River-Revelstoke Norm Macdonald is also the Deputy Chairman of the Special Committee on Timber Supply and 
Opposition Critic for Forests, Lands and Natural Resource Operations
 . He can be reached at 250-344-4816 | 1-866-870-4188 |104, 806 9th Street N | Box 2052 Golden BC V0A 1H0 | www.NormMacdonald.ca