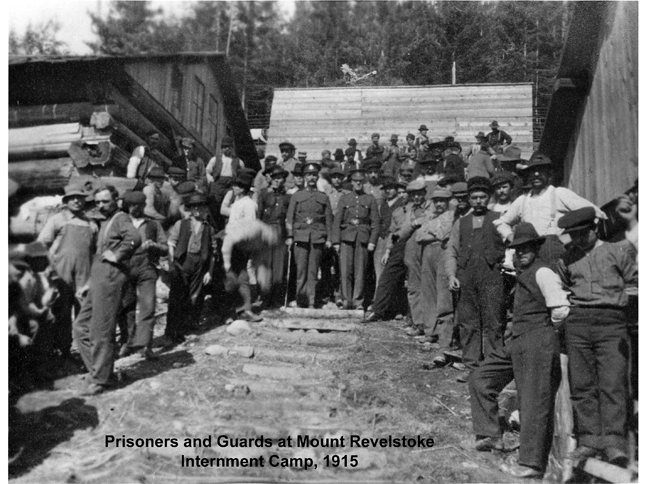 By David F. Rooney
City Council is likely to acknowledge the fact that hundreds of civilians who were so-called enemy aliens were interned here during the First World War.
Council had been recently asked by the Ukrainian-Canadian Civil Liberties Association to erect a small plaque to mark the fact that this had been the site of a prison camp for civilians. Mayor David Raven and members of Council were prepared to say "No" to the request on the grounds that Revelstoke City Council doesn't issue proclamations. However, a question from The Current prompted them to change their collective mind and invite Revelstoke Museum Curator Cathy English to explain the historical context for the little-known camp.
She said the community wanted a prison camp to be built in Revelstoke because it would help improve the economy. Prisoners could also be used to build the road to the summit of Mount Revelstoke.  It was one of 27 camps built across Canada but it didn't last long — just from September to December 1915. Prisoners did build a couple of kilometres of the roadway but they were all shipped to a camp near Banff.
A small plaque marks the remains of the camp in Mount Revelstoke National Park. Cathy said a suitable location for the new plaque, which is being paid for by the Ukrainian-Canadian Civil Liberties Association (not local taxpayers), would be either at the Museum or along the trail that leads to Mount Revelstoke National Park from the  Circle of Champions by the Railway Museum.
This issue has been referred to Council's Parks, Recreation and Culture Committee. A Council will decide what to do after that.
Please click here to see Cathy's brief presentation to Council.