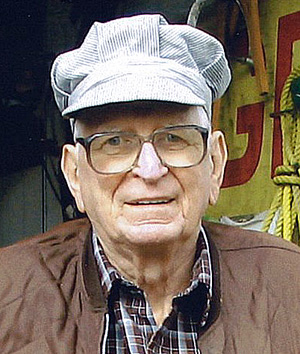 Lloyd Henry Good passed away at Queen Victoria Hospital, Revelstoke on Sunday, July 28, 2013 at the age of 85 years.  A Memorial Service will be held at the Chapel of Brandon Bowers Funeral Home, Revelstoke on Wednesday afternoon, August 14, 2013 at 2 pm with Mr. Gary Sulz officiating.  In lieu of flowers, memorial contributions may be made to the charity of one's choice, in memory of Lloyd.
Lloyd was born in Brandon, Manitoba on May 26, 1928.  He married Shirley Louttit on January 7, 1950, and they lived in Souris, Manitoba, and Kenora, Ontario before moving to Revelstoke in 1971.  Lloyd worked as an engineer with C.P. Rail for 40 years, from October 1, 1946 to February 1, 1986.  While working he was very involved with the B.L.E. (Brotherhood of Locomotive Engineers).  After retirement, Lloyd became a driving force for Big Eddy Waterworks.  He was actively involved with Ducks Unlimited's project of building bird boxes with school children.  He also enjoyed being involved in supporting his favorite political party.  Lloyd loved to fish hunt and garden.
Lloyd was predeceased by his wife Shirley and his brother Allen.  He is survived by four children: Teresa Elsom, Darleen (Stewart) McCartney, Ivan Good and Loran (Wayne) Lilwall; grandchildren: Samantha Mathie, Jeff Stoddart, Eric Stoddart and Edward McCartney; great grandchildren: Eliza and James Mathie and Talon Stoddart.
Messages of condolence may be sent to Lloyd's family by viewing his obituary at www.brandonbowersfuneralhome.com.
Cremation arrangements are in the care of Brandon Bowers Funeral Home, Revelstoke.