By David F. Rooney
Friends of Cory Beisel and Whitney Kendrick are going all out to hold a fundraising concert this coming Sunday to help the young couple whose four-month-old daughter Neve is so far spending much of her young life in hospital.
The baby girl is plagued with abdominal issues that, says her dad, Cory, baffle her doctors. Born 10 days early, Neve was not a big baby. She weighed five pounds, 13 ounces and had trouble breathing and feeding. She could not breast feed nor would she take a bottle. In fact, she was hooked up to feeding tubes and required assistance breathing. On top of that one side of her body is larger than the other.
These problems are distressing and they have meant that Neve has been in and out of hospital since the day she was born.
Just four days after she was brought home to Revelstoke the infant developed an infection at the site where her feeding tube entered her stomach. They took her to Royal Inland Hospital in Kamloops for three days before they returned home to Revelstoke and then the couple went back to the BC Children's Hospital in Vancouver where her two-and-a-half-month-old brother Clifford had a check up.
Clifford, or Ford as they like to call him, has some physical development issues involving one eye, his spine and his pallet. Other than that he is very cheerful and extremely bright young boy. He interacts well with adults and loves to do puzzles. At 30 months of age he finds 50- and 60-piece puzzles a breeze.
"It has been a real challenge for us," Cory, who works for Apex Rafting here in Revelstoke, said in an interview at the family home on Viers Crescent. Whitney and Neve were not present. They were in Vancouver.
Last month, he said, the family went to Grande Cache, Alta., where he had a contract to work as a rafting guide. Neve began having seizures and she was flown to Stollery Children's Hospital in Edmonton. She was stabilized and then flown back to BC.
That flight cost thousands and was paid for by Stollery Children's Hospital because the BC government wouldn't cover it.
Cory said they have received assistance from the Shriners, who operate a medical bus and Trees for Tots and deeply appreciate it. But even so there are hidden costs for their children's medical treatment, particularly around drugs some of which cost them $1,000.
Physiotherapists Rubyanne Meda and Doris Folken, who work with Whitney — an occupational therapist — at Queen Victoria Hospital are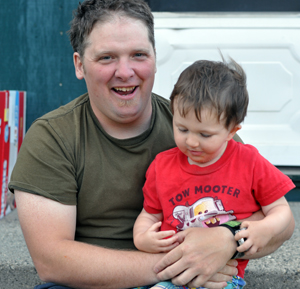 distressed to see what is happening to their friends.
They have organized a fundraising concert for the Beisels at the Revelstoke Seniors Centre on Sunday, July 28, starting at 6 pm.
There will be two bands, Seal Skull Hammer and The Lonely Souls. This is family-oriented, kid-friendly event so there will be no alcohol. But there will a silent auction, a dessert auction and more. Tickets are $10 and are available at the QVH Physiotherapy Department, Apex Rafting in the Regent, the Community Centre and at the door.
This is a really worthwhile event to assist family in our community that needs our support. If you can't attend but would nonetheless like to help out with a cash donation you should contact Rubyanne Meda at the QVH Physiotherapy Department or send her an e-mail at rmeda@telus.net.