By David F. Rooney
A long-awaited service review of Revelstoke's Fire-Rescue Service has been completed and it has 26 recommendations the City hopes will improve its service.
Initiated back in February, the report by Davis Consulting Group found the key problems identified with the current mode of delivering fire services were:
1. High turnover rate of volunteer firefighters results in continuous efforts to recruit and train sufficient numbers of volunteer Firefighters to meet response requirements. Low retention of volunteers leads to lower experience levels among responders and limits training that can be provided as training resources are directed at new recruits.
2. Lack of reliability of response to pages lengthens elapsed time until fire attack commences, and risks not having sufficient resources to effectively deal with emergency events. This situation is mitigated by routinely paging off‐duty full‐time members on overtime.
3. Lack of policies for services and service levels leaves expectations unclear; lack of good performance measurement and reporting makes governance more difficult.
The consultant made 26 recommendations that are bound to satisfy some critics of the department and leave others gnashing their teeth.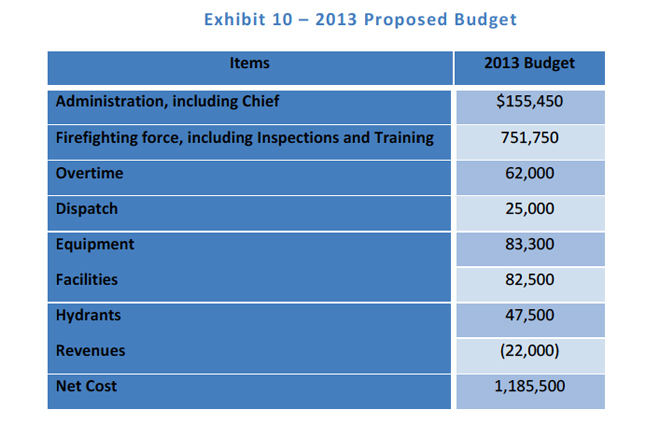 While there have been some critics of the Fire-Rescue Service's budget, the consultant said they "were unable to identify any significant savings beyond those already identified by the Chief." And they suggested  Council consider user fees for certain situations.
The goal of the review was to prepare recommendations on means to improve the overall effectiveness of the service in a cost-effective manner, while continuing to provide the quality services citizens expect.
In summary, it was recommended that Council approve services and service level that include:
Continuation of 24/7 dispatch
General response time for first pump/engine on scene within 8 minutes, 80% of the time
Medical first response for life threatening calls
Other recommendations to Council include:
Limiting response to structures fires outside city limits to those that receive matching fire inspections as those within the city.
An increase in the number of volunteer positions
Adoption of a policy of providing NFPA standard training.
Still more recommendations zeroed-in on reporting protocols, enlisting community leaders to assist in volunteer recruiting, training improvements, implementation of rank structure, policy development and data collection.
"It was our responsibility to ensure that we left no stone unturned when looking at ways to improve our services to our citizens, as well as our bottom line," Mayor David Raven said in a news statement released on Friday.  "Council asked for this external review to provide an objective opinion about what's working well and what needs to change in order to provide the best value to our community.  The report makes some great recommendations that will assist Council and the Fire Chief in improving the services we provide today."
For his part Fire Chief Rob Girard said he sees "nothing but positives on the road ahead."
"We view the 26 recommendations as tools… to improve the good service we provide our community.  It is positive for immediate improvement to the service we provide our community now and for the fire chiefs and the department in the future.  As I said in the media release, it will make something good just that much better."
He said the department is already close to achieving report's recommended response time of eight-minute 80% of the time.
"I saw that as a positive," Girard told The Current. "With this recommendation and moving forward to Council with policy, we will have the tools to monitor our responses, ensure we are meeting our targets and if we are not, determine why and make the necessary adjustments for correction… many of our neighbouring fire departments do not have such service levels established formally with regards to response times. In fact it's not that common for departments our size in the fire service.  I see this as yet another positive in the improvement of the services we provide our community."
He also responded to the recommendation that responses to "structures fires outside city limits (be limited) to those that receive matching fire inspections as those within the city.
"We will continue to respond as we have for decades to Area B in the same good prompt-service fashion as we have been doing," he said.  "What this recommendation does, however, is act as a catalyst for dialog with the CSRD as to what the fire department will require in the future with regards to commercial properties.  In fact I have already had discussions this week with their Fire Services Manager about what that could look like.  We have a great working relationship with the CSRD and we are on the same page with regards to the safety of all. I see this as yet another positive step in improving our service to the CSRD, the public and the safety of our valuable firefighters.  "Everyone Goes Home"  is stenciled on our bay doors as a reminder to all our firefighters about how we all value our safety. This recommendation helps us to ensure our statement is a reality for our firefighters not only within the city of Revelstoke but also to them when responding in the CSRD.  I see it as business as usual but with improvements."
The operational review looked at all aspects of the Department's operations; for example, a review of shift patterns, changes to the current Fire Service delivery model, a comparison to services provided by comparator communities, fire equipment replacement plans and impacts of the Fire Underwriters Survey rating.
Roger Echlin, president of the Local Interior Association of Fire Fighters, said the membership  "is encouraged to see one of the key recommendations in the review is maintaining the current level of career."
Volunteer Firefighter Brad Faucett, who is also the president of the Revelstoke Fire Rescue Society called them encouraging to provide emergency service to our city."
Council formally received the report and directed staff to review the recommendations and formulate a plan for implementation.
The Fire Department currently employs 8 full-time staff and has 33 volunteer firefighters and Girard said those numbers will be reviewed.
"The report recommends adding 10 to our roster," he said. "It certainly will be investigated and I see the merits of doing this. I think more dialogue will need to be had and look at where we are today and where we want to be tomorrow."