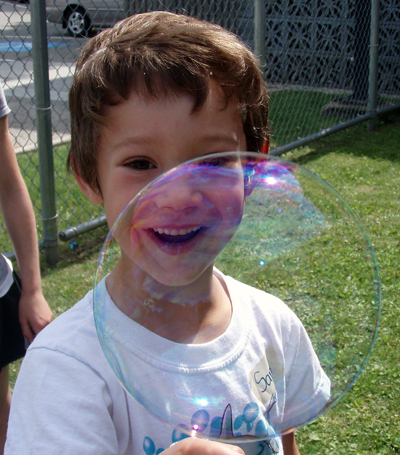 By Meighan Phelps
It's that time again when the flowers start blooming, school is almost out, and registration for Community Connections' Summer Day Camp begins! This will be the camps' 16th year running with new and fun activities and summer 2013 will be no exception.
Adventurer's Summer Camp, which is offered to children from ages 6-10, is a camp that keeps children entertained and engaged from 9-3pm, Monday to Thursday, and 9-12pm on Fridays. A few themes and activities included in the camp include Exploration and Discovery week where a day at 3 Valley Gap is the highlight, along with tours of the Fire and Police department. The Great Outdoors week includes a morning trip to the Skunk Cabbage Boardwalk and a nature scavenger hunt! Another week and also an all-time favourite is Wet 'n Wild Water week where a trip to the Vernon Waterslides and the Slip 'n Slide are sure to be a blast! What is new to Adventurer's Camp is the theme of Tourist in your own Town, which gives children a chance to explore their own mountain town with trips to the Revelstoke Dam, various museums, and the Enchanted Forest. All the weeks also include one or two afternoons of swimming and some include an all day trip to Blanket Creek, which has always been a success with the children.
The Pre-teen Summer Camp, which runs from 9-3pm Monday to
Friday and is offered to children ranging from 9 to 12 years old, is sure to entice pre-teens this summer. As always, the camp will be offering a Crazy Cuisine week, where cupcake decorating and Mexican style food are in store and a Wacky Water week, which joins the Adventurer's Camp at the Vernon Waterslides. A few recent changes to the weeks have been made to revamp the camps and generate curiosity in pre-teens, such as How It Works. This week will have the campers all around town exploring how things work and function. Some venues included in this week are touring the Revelstoke Airport, Revelstoke Dam, and Downie Timber. Another fantastic week that has been introduced this summer is Daring Drama. With the support from the Revelstoke Arts Council and Theatre Prospero, this week includes mornings of acting fun run by professional staff and afternoons biking to the Williamson's Lake or other activities. Those who attend this week will even be given the opportunity to act in a real live play!
This year registration can be done at Community Connections, which is located at 314 Second Street East or online at community-connections.ca. Our hope is by offering registration online the process can be faster for parents who have already busy schedules.
Both camps have been enjoyed by many children over the years and the goal is they will continue to keep children active, captivated, and excited for this summer and the years following.
If you have any questions or concerns, feel free to stop by Community Connections or check out our website, www.community-connections.ca!
Meighan Phelps is the coordinator of the Community Connections Summer Day Camps Program