Editor's Note:
Laura Stovel has been in India for the last couple of weeks and visited the Garwhal English Medium School (GEMS) in Northern India, which has been generously supported by the Revelstoke Rotary Club for the last two years.  Here's her feature story about this very worthwhile project:
By Laura Stovel
SAINJI, India — The students of the Garwhal English Medium School (GEMS), near the village of Sainji, in Uttarakhand, northern India, are used to receiving visitors from around the world. So when students and professors from Boston College visited them on the last day of school before the summer holidays, the school ambassadors, aged seven to twelve, took questions and asked their own questions with confidence and poise.
When the Boston College students asked them what they wanted to be when they grew up, several said they wanted to become pilots, cricket players, doctors, nurses and environmental engineers. Then the children asked the American students what they wanted to become – and learned about the careers of social work and journalism.
The GEMS students then stepped forward to sing songs and dance for, and with, the visitors.
After lunch, Andy, a tall British man with dreadlocks, a broad-rimmed hat and a braided beard that is died blue at the tip, arrived with his guitar to play some of the student's favorite songs, the most popular of which was the Beatles' "Yellow Submarine," which the students sang with great gusto. Andy volunteers for the school music program three times a week.
When school closed around 1:30, the school ambassadors then guided the visitors from Boston through two of their villages. The visitors left extremely impressed, as have previous visitors from across India, Canada, Britain, Colombia, the US and many other places who have seen the school as it grew and developed in the 3 ½ years of its existence.
It is because of these international contacts that the children and the villagers of Sainji receive strangers, including large groups of university students or a man with a blue beard, with courtesy, appreciation a sense of fun, rather than being fearful, suspicious, or begging, which might be a problem elsewhere.
Revelstoke has been part of the many international relationships enjoyed by the GEMS school and its students. In addition to private donations, the Revelstoke Rotary Club donated $1,000 last year to the school lunch program, which gives hot and nutritious meals to the students. For many of them, this is the main meal of the day. This year, the Rotary Club sent $1,250 and a further $5,000 to help pay for textbooks for the school. The $5,000 was raised through the highly successful Taste of India fundraiser in April coordinated by the Rotary Club and Goldie Sanghera, owner of Paramjit's Kitchen.
The GEMS school provides quality English-language education to poor children in Sainji and 14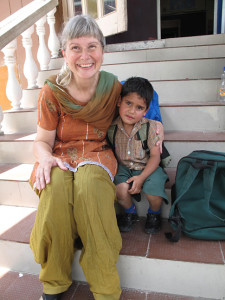 other neighbouring villages. The school was originally set up in an abandoned government clinic with 14 students and grew to 230 students housed in a beautiful new building with at least nine classrooms, an assembly hall, a kitchen and office rooms. While tuition was originally free, parents now pay a manageable $2 a month, with subsidies for those who cannot afford that.
Kunwar Chauhan, who co-founded the GEMS school with his Canadian wife, Lori McFadyen, feels that the foreign visitors benefit both the students and the people of Sainji. Their visits have "given the villagers a broad view of people of other cultures, races and languages. That's a very good thing," he said.
"The foreigners also help us by providing such things as toilets and trash bins." Engineers Without Borders, supported financially by a Rotary Club in California, installed a septic tank and two private latrines for poor families. (Because of cultural concerns about cleaning other people's toilets, private toilets are better managed). The engineering students are returning later this month to install a large, communal septic system that villagers can tap into.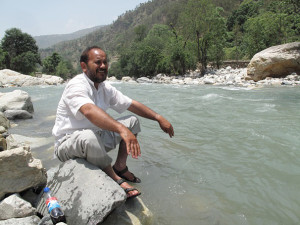 When another group of students came for a few days during the monsoon last year and wanted to help, Chauhan suggested that they buy metal drums, have them cut in half and decorate them. These would be put in public courtyards and used for burning trash. This simple method of dealing with garbage means that litter is rarely thrown over the bank or into an empty lot, as is common in India. Sainji is spotless, without a trace of litter on the ground. Common courtyards are regularly swept and widely used.
In many places, an influx of foreigners can result in villagers begging or asking for things. This does not happen in Sainji. "It happened with some of our children at the beginning but we strictly told the children and guests that this was not permitted. The guests often want to give and we choose people who are really in need – like the family who got the toilet. That way no one questions the gift. We told the children they should never expect anything. Those who need will get." Villagers have never complained about the choice of beneficiary, he said.
Chauhan and McFadyen also direct funds to the school. "That gives the children the incentive to work harder," Chauhan said.
The behaviour of the foreign visitors is also important. "We are running the school so visitors understand that this is social work. We are not for entertainment here. Our aim is to give a better education for these poor children," Chauhan said. He sets the tone for the visitors through his own behaviour. "I don't smoke or drink so foreigner visitors are less likely to do this. I don't like them to interact (in any provocative way) with the opposite sex in the village" or invite villagers into their place of accommodation. "Foreigners have to be reserved and dress modestly." Setting these expectations avoids difficulties for the village.
Chauhan is, himself, a success story in the region. He grew up very poor in Sainji but his family managed to send him to send him to school. When he was in fifth grade, his 'uncle-grandfather,' who lived in Delhi, offered to raise him and give him higher education. In 1981, after Chauhan completed his Bachelor of Commerce degree at Delhi University, he took the unusual step of returning home to Sainji – most city-educated youth stay in the cities. Since then he has worked consistently to improve his community.
"When I returned, only ten percent of the children went to school. Now it's 100 percent," he said "We didn't have electricity, toilets, running water or TV" or a road to the village. "There used to be animals tied in the village and under every house."
Chauhan was elected Pradhan (head person) by the villagers and used his position to help bring in a road and schools. "In our area there were no government schools. I worked for that and we got a school in every village." Unfortunately the quality of that education was poor so Chauhan sought alternative schools and eventually founded the GEMS school with McFadyen, his wife since 2008. He also had cement laid throughout the village to keep down dust, reduce mosquitos and keep the village clean; the animals were sent to the cow sheds on the outskirts of the village. (For more information on Chauhan and McFadyen's work the region press this link).
Is Chauhan concerned that the children he and McFadyen are educating in English and encouraging to "dream big" will leave the area? Chauhan admits that the school is "experimental. Let's see how it unfolds."
He thinks that having the children live in their home environment will keep their attachment to their home communities. "We hope these children will be more helpful to the community and do something to change their village," he said. By contrast, many English medium schools are boarding schools. While these tend to do better academically, children can lose their attachment to their villages and families, he said.
Here are some additional photos Laura sent us: