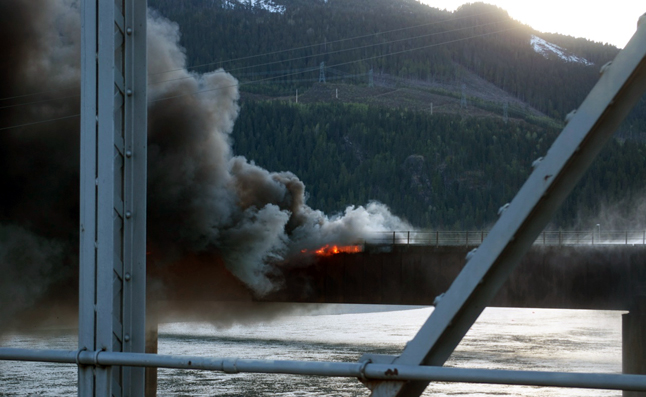 By David F. Rooney
Revelstoke's CPR Bridge went up in smoke on Saturday evening. Fortunately there was no train crossing the Columbia River at the time.
The fire started at about 7 pm and Fire Rescue Service crews responded swiftly to the fire. RCMP blocked the Big Eddy Bridge at both ends and turned back curious onlookers who crowded into back yards that faced the river.
Mayor David Raven was on the scene and told The Current that the creosote-impregnated wood decking of the bridge somehow caught fire. Driven by a wind sweeping south along the river, the burning creosote caused ominous clouds of black smoke that billowed over the city.
An Arrow helic0pter piloted by Phil Davies scrambled to attack the burning stretch of decking from the air within 25 minutes of being called by CP Rail. Click here to see a link to a video by Linda Chell of the helicopter in action.
Speaking from Vancouver, Fire Chief Riob Girard said 18 firefighters fought the fire.
"It was a difficult fire to action because it was in the middle of a bridge," he said. "We were fortunate that a… helicopter attacked the fire from the air."
Girard told The Current that the cause of the fire is not yet known, however, the Fire Rescue Service will investigate the fire alongside investigators from the CPR.
"Here's an interesting little factoid: the fire was s hot it stretched the tracks," he said.
It is not known how long this fire and its aftermath will hamper trains along the CPR's main line.
Here are some great photos of the fire taken, for the most part, by Current readers (my whole hearted thank you to all of you), as well as a video: