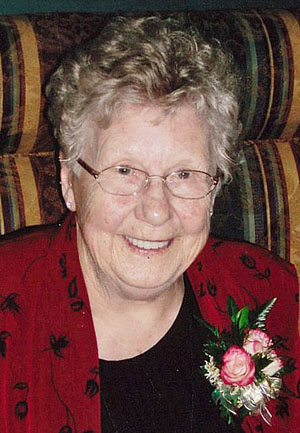 Gladys Audrey Anderson passed away at Queen Victoria Hospital, Revelstoke on Saturday, May 11, 2013, at the age of 96 years.  A Memorial Service was held at the Lutheran Church of Resurrection, Revelstoke on Tuesday afternoon, May 14 with Pastor Richard Klein officiating.  In lieu of flowers, memorial contributions may be made to the Canadian Cancer Society, 202 – 1835 Gordon Drive, Kelowna, B.C. V1Y 3H5, in memory of Gladys.
Gladys was born in Broadview, Saskatchewan, on January 20, 1917, and had been a resident of the Revelstoke area for over 42 years.  She loved to knit, read and do crossword puzzles.  Family was Gladys' number one priority and she loved spending time with all of her children, grandchildren and great grandchildren.
Gladys was predeceased by her parents, 12 siblings, husband Gilbert, her daughter Sharon Wychopen and four great grandchildren: Wyatt, Emma, Jacob and Kaitlyn.  She is survived by three daughters: Maxine (Klaas) Rienks of Revelstoke, Bev Sherling of Dysart, Saskatchewan and Vicki (Bob) Heiss of Lake Country; eight grandchildren: Lori (Roland) Rohde, Jimi (Kim) Rienks, Sandi Pfeifer, Nadine (Darren) Shimizu, Micheal (Karen) Wychopen, Christina (Richard) Schramm, Kieran (Nicole) Heiss and Kolby Heiss; 12 great grandchildren: Ashley and Logan Rohde, Marci and Stephanie Pfeifer, Eric Rienks, Justin and Ryan Shimizu, William, Laura and Jennifer Wychopen, Izabella and Joshua Schramm; sister Violet (Armond) Paré of Moose Jaw, Saskatchewan and brother-in-law Gordon Anderson of Qualicum Beach, B.C.
Messages of sympathy may be sent to Gladys' family by viewing her obituary at www.brandonbowersfuneralhome.com.
Cremation arrangements were in the care of Brandon Bowers Funeral Home, Revelstoke.