By David F. Rooney
After a grueling campaign spent crisscrossing our huge Columbia River-Revelstoke riding voters decided on Tuesday to send New Democrat Norm Macdonald back to the Legislature.
However, his re-election was one of the few shining moments for local party supporters after an election campaign that was, overall, a disaster for the NDP.
Macdonald received 6,019 votes. His main opponent, BC Liberal Doug Clovechok, received 4,543 votes. BC Conservative Earl Olsen, who truly did play the spoiler, won 1,079 votes and Green Party Candidate Laurel Ralston got 851 votes. These totals do not include the advance ballots. Even so, since the riding has 24,467 eligible voters this remains a poor turnout.
"I am very pleased with our local campaign," Macdonald said in an interview from Golden just minutes after BC Liberal Doug Clovechok call him at 10:25 pm to concede the election. "We ran a very positive campaign and spent less than a quarter of what the Liberals spent during the campaign."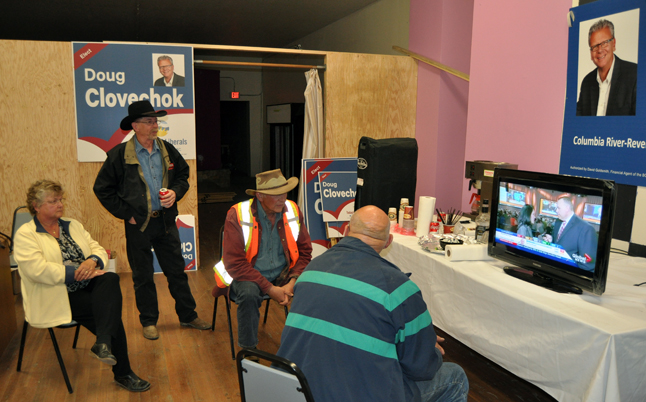 While Macdonald was very pleased with his victory he was very surprised and disappointed with the overall provincial vote. At the beginning of the campaign back in April the NDP had a massive lead in several public opinions. The Liberals' steady campaign under Premier Christy Clark whittled the NDP's lead to just a few percentage points. The result of the vote sent the BC Liberals back into government with a 50-seat majority. The NDP, led by Adrian Dix, won 33 seats — a loss of three seats. The Green Party won one seat as did an independent.
Macdonald blamed the Liberals' attack ads for the change in political fortunes and said the negative ads concocted by the Liberals were a sign of things to come in provincial politics.
"I think we laid out a clear path forward so the provincial result was a surprise and a disappointment," he said. "The lesson learned across the province is that extreme negativity is a successful political tactic."
Voting was steady throughout the day in Revelstoke and workers for both of the main parties worked hard to get as many supporters to the polls as possible.
As the results rolled in there were very different moods in the local NDP and BC Liberal campaign
headquarters. The Liberals were generally upbeat especially as it became clear that their party was going back into government. The New Democrats, on the other hand were very subdued as they recognized the general electorate was not willing to give the NDP a mandate.
BC Liberal Candidate Doug Clovechok was clearly disappointed that he would not be given an opportunity to represent Columbia River-Revelstoke in the Legislature.
"I think we ran a good campaign and I wish that the result of the vote could have been different, but I am absolutely ecstatic that our party has been returned to government."