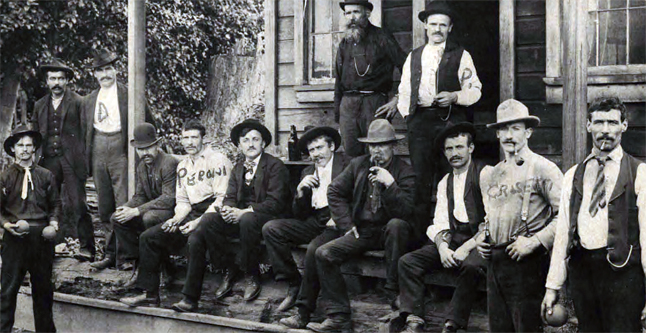 Here's a subject that should be very relevant to Revelstoke and its citizens: a presentation about the history of Italians in BC by award-winning author and historian Lynne Bowen.
Bowen is the author of Whoever Gives Us Bread: The Story of Italians in British Columbia ($32.95, Douglas & McIntyre), and she will be speaking at the Revelstoke Museum & Archives on Monday, May 13, at 12 noon. The lunch-hour event will also feature a catered Italian lunch. If you can't make the noon presentation you can always catch the 7 pm reprise — sadly without the meal.
An intimate and dramatic telling, Whoever Gives Us Bread vividly illustrates the irrepressible spirit of BC's Italian immigrants and the enormous contribution they have made in the building of a province.
When Italians began to immigrate across the pond in the early 1860s, they came first to British Columbia via San Francisco, arriving in the province 50 years before their fellow countrymen would begin settling in Ontario or Quebec. Fleeing grinding poverty back home, they came north to the isolated valleys and cities of the province to pan for gold, raise cattle, dig coal, fell timber, build railroads, smelt copper and refine lead, or to start small businesses. BC welcomed them grudgingly.
Recounting the stories of individual immigrants, Bowen has crafted a people's history of the Italian settlement of BC, exploring the strong connections between Italy and the towns where Italians found work, including Vancouver, Victoria, Nanaimo, Powell River, Prince Rupert, Trail, Revelstoke and area, and many other towns. The stories she uncovers are rife with discrimination and tragedy, and families torn apart when their men left Italy for more promising futures. Yet always there is a rich sense of pride and community, as though the Italians were able to keep a firm foot planted in each country.
Lynne Bowen is the author of five books of Western Canadian history: Robert Dunsmuir, Those Lake People, Muddling Through, Three Dollar Dreams and Boss Whistle. She has won the Lieutenant-Governor's Medal for writing British Columbia history, the Hubert Evans Non-Fiction Prize and the Canadian Historical Association's Regional Certificate of Merit. Bowen was the Rogers Communications Co-Chair of Creative Non-Fiction Writing at UBC from 1992 to 2006. She lives in Nanaimo, British Columbia. You can visit her website at www.lynnebowen.ca.
Click here to view the poster for this interesting and very relevant event at the Museum & Archives.
The Revelstoke Museum & Archives is located at 315 First Street. For more information, please call the Museum at 250-387-3067. Tickets to the catered Italian lunch at noon are $12 each and pre-registration is required. The 7 pm talk is free. Books will be available for sale at both talks.