By Laura Stovel
Have you ever wondered where your recycling goes after you put it out on the curb in that big, transparent, blue plastic bag every other Wednesday? You know that a green Bresco truck hauls it off but after that most people aren't sure what happens.  We decided to find out.
The Bresco truck takes the bags to the Bresco plant on Highway 23 North where they are heaped together, channeled onto a ramp, compressed into blocks, and bound.  They are then stored in a large shed until there is enough to fill a truck heading to the Kelowna.
For Bresco co-owner Brett Renaud there should be no waste. "I wait until I get an empty truck. We won't even send a truck half loaded. Our truck brings back freight from Kelowna, mostly pellets. The less greenhouse gases we use the better," he said.  While Renaud cares about the environment, his primary concern is economic. Wasting less is simply good business from everyone's perspective, even taxpayers, he said.
In 2012, the curbside recycling diverted 212 tonnes of garbage — the equivalent of ten semi loads — from the landfill, according to Renaud.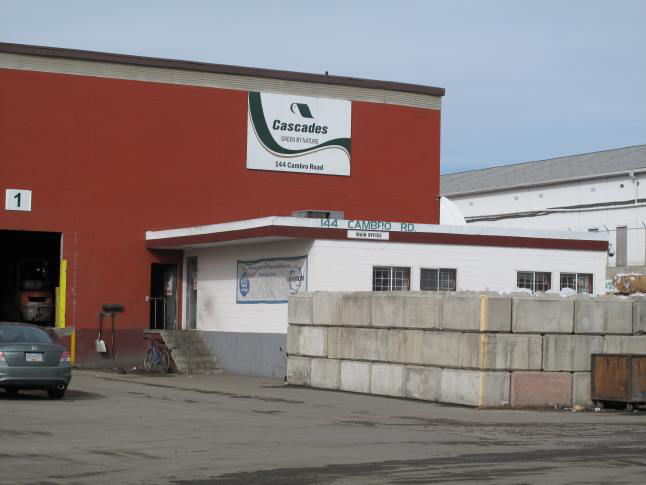 Bresco hauls the recycling bundles to the Cascades Recovery plant in Kelowna, one of 18 plants owned by the company in Canada and the United States. The plant serves the Central and North Okanagan, Columbia Shuswap, and some of Kootenay Boundary Regional Districts.  According to Cascades manager Deanne Stephenson, the plant is the largest semi-automated plant in BC outside the Lower Mainland.  No automated system is perfect, Stephenson said, so the plant employs workers to, among other jobs, pull out inappropriate items from the recycling stream. A tour around the plant reveals why these workers are needed.
After the recycling arrives at the Kelowna plant, the compressed bundles and blue bags are opened and the material goes up a big ramp where automated disk screens separate cardboard, paper and newsprint from metal and plastic containers.  Soon after, a magnetic ramp pulls out the metal from among the plastic.
The paper ramp still has some inappropriate items in it, largely items that are not recyclable and some that were simply missorted by the automated system. That's where the human eye is needed. As the paper whisks by, four workers on two ramps quickly sift out any items that might corrupt the paper.  For these workers, there is no time to pause or lose focus.
Finally the sorted material is rebundled and shipped to companies that will process them further. Paper and cardboard go to pulp mills in Washington State, Stephenson said. No pulp mills in BC are equipped to handle this material after the Norampac paper mill in Burnaby closed down. Tin cans are sent to various steel foundries depending on "whoever pays the best price," Stephenson said. The foundries could be located in BC (for example, Richmond Steel), the US or Ontario. Aluminum is transported to Radius, a broker in Surrey, and sold from there, likely to an Alcan foundry.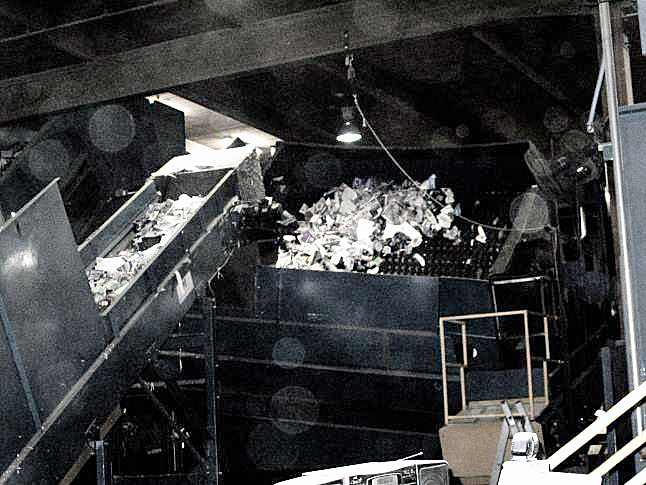 Plastic is sent to Merlin Plastics in BC and also to China. There it is chipped, washed, melted down into pellets and sold in the resin market  where it can be made into items like non-food buckets, car parts, Berber carpets, fleece and vinyl siding, Stephenson explained. "Most manufactured material is made in China so it's a natural flow of goods."
One pile contains items that have been rejected, many of them because they are too small. "Anything three inches in diameter or less falls through," Stephenson said. This could be avoided if people kept tin can lids connected to the cans and if they put plastic lids back on plastic containers.
Glass is not accepted in the curbside recycling. Broken glass can injure workers and can damage recycled paper later in the process as some glass inevitably gets through, Stephenson said. Instead, household glass should be dropped off at the new, specialized bins at the Bottle Depot and at the dump. There, as part of a new pilot project, it will be crushed locally and used as drainage material.
Glass is actually a very useful material to crush and recycle, said Malcolm Harvey, spokesperson at Encorp, the non-profit organization that handles recycling of beverage containers and electronics.  "Anywhere you can use sand you can use glass," he said. Interestingly it is safer than sand when used in sand blasting and in places up north it is used as sand trap material for golf courses, he said.
The most common mistake that people make when loading their blue bags is adding Styrofoam, which is not recyclable. This is where consumers can make a difference, Stephenson said. "You have a choice. You can buy eggs in Styrofoam cartons or paper.  If no one would buy eggs out of Styrofoam they would no longer be produced."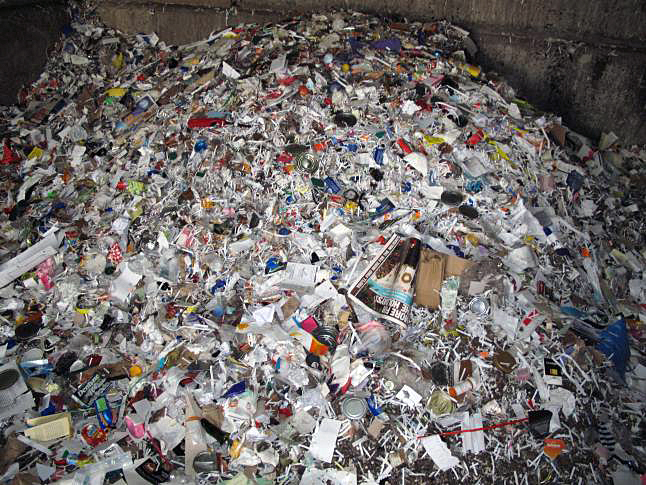 The Cascades plant also acts as a holding station for electronic waste dropped off at the Bottle Depot. These items are trucked to Teck Resources Ltd. (formerly Cominco) in Trail for further processing.
The ABCs of better recycling
There are some simple rules to follow when deciding on what plastics can be recycled, Stephenson explained:
For plastic bags and packaging, if you can pull and stretch it, it can be recycled. This includes stretchable plastic bags, stretchable shrink wrap and bubble wrap. If it makes a crinkling sound or doesn't stretch it should not be recycled.
Any plastic container or packaging with a triangle with the numbers 1-7.
Any hard plastic container or packaging, even without a triangle. This does not include non-container items such as toys or child car seats.
Containers that contained toxic materials should not be recycled. "Workers have to handle and sort the containers," Stephenson said.