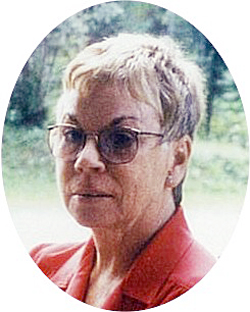 Hanne(lore) Maria Scherm passed away at her residence in Revelstoke on Saturday, March 9, 2013 at the age of 71 years.
A memorial service will be held from St. Peter's Anglican Church, Revelstoke on Saturday, March 30, 2013 at 1 pm with Reverend Dan Meakes officiating.
In lieu of flowers, memorial contributions may be made to the Heart & Stroke Foundation, 729 Victoria Street, Kamloops, B.C. V2C 2B5 or to the Asthma Society of Canada 124 Merton Street, Suite 401, Toronto, Ontario M4S 2Z2, in memory of Hanne.
Hanne was born in Germany on March 2, 1942, and had been a resident of Revelstoke since 1980.  In her first few years in Revelstoke, Hanne assisted her husband, Volker with their outfitting company, Monashee Outfitters.  She went on to work at Moberly Manor where she greatly enjoyed helping others, and in recent years Hanne could be found assisting the community with her work at St. Peter's Good Will Store.  She enjoyed the free time she found doing her artwork, reading and spending time with her family.
Hanne was predeceased by her husband, Volker Scherm, companion Martin Ness, one sister, Ursula, and one brother, George.  She is survived by one daughter, Susanne (Rob) Tippe, of Revelstoke; two grandchildren: Xena-Rea Tilden and Alexzander Tilden both of  Revelstoke; one brother, Heinz Calmus, of Germany as well as numerous nieces and nephews and her little dog, Skippy.
Messages of condolence may be sent to the family by visiting Hanne's obituary notice at www.brandonbowersfuneralhome.com
Arrangements are in the care of Brandon Bowers Funeral Home, Revelstoke.