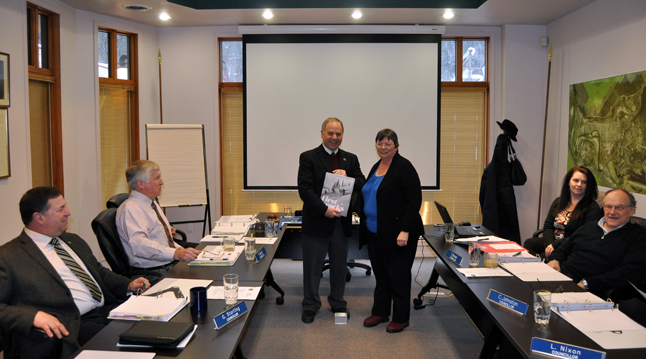 By David F. Rooney
Judging by its annual report to Council, the Revelstoke Museum & Archives is experiencing epic growth in visitorship and the size of its collections.
"There were 12,370 recorded visitors for our Fiscal Year of November 1, 2011 to October 31, 2012," Curator Cathy English said in her annual report to the City. "This includes 6,490 Gift Shop visits, 3,056 people attending programs or meetings, and 2,824 people visiting the archives or touring the museum. It must be noted that there is a great deal of overlap between the categories."
That may well be so but the numbers are impressive. Last year there were 8,519 visitors, in 2010 there were n7,093 and in 2009 there were 6,228. No matter how you cut it the Museum is one place that visitors (and locals) connect with,
Part of that is likely due to its location. Cathy English told Council that of all the members of the Museums & Gallery Collective the Revelstoke Museum & Archives has seen the most impressive rate of growth in visitorship since the opening of Revelstoke Mountain Resort. Much of that is probably due to its location close to downtown but the institution's increasingly sophisticated exhibitions and displays, as well as its lovely and well-stocked gift shop, are additional reasons for that growth.
The museum's budget has grown as well from a few tens of thousands of dollars a decade ago to about $176,000. It has expanded in other ways, too.
"We had approximately 2,050 artifacts in 1983," English said, adding that its collection started in 1960. "We now have over 6,000 artifacts. We have over 7,500 photographs now and in 1983 we had about 1,200.  We have also added well over 350 archival collections comprising several meters of material."
The Museum & Archives has also embraced the Digital Age. It has a website and a blog.  It uses social media to help it reach a wider audience and it has also contributed two virtual exhibitions — Getting Here from There  and Gliding, Sliding, Soaring to the Virtual Museum of Canada's Country Memories section. And last year it won a $238,000 contract to deliver an elaborate interactive website and exhibition about avalanches, to be called The Land of Thundering Snow, to the Virtual Museum of Canada. That won't be completed until 2014.
All in all, the Museum staff and its many volunteers have ample reason to be proud of their institution.
Please click here to read the annual report.