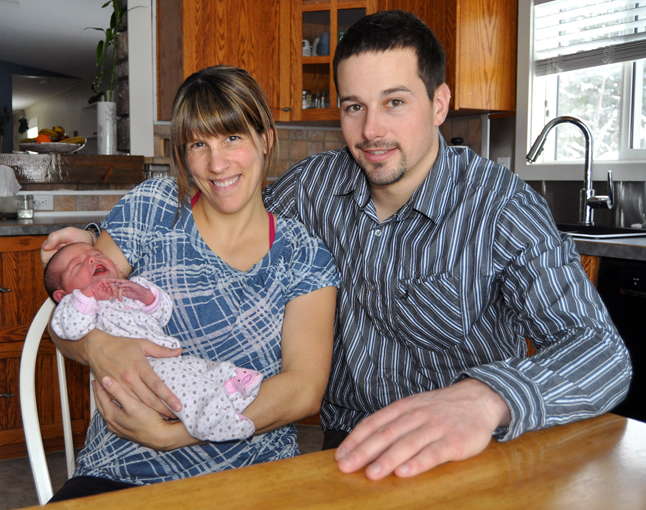 By David F. Rooney
Meet Revelstoke's newest citizen —Miss Anika Raasch, who was born just two days ago at Queen Victoria Hospital.
"The delivery was 100 per cent natural," said proud mother Marie-Claude De Launiere. "She was delivered with the help of midwife Birte Paschen."
Anika was born at 6:55 pm on January 2, just one day overdue and Marie-Claude's parents, Madeleine and Rejean De Launiere flew here from lac St. Jean, Quebec. She is the couple's second child. Big brother Kaden is two years old.
Bedsides all the attention  from her parents and grandparents, Anika received a huge assortment of gifts from the Welcome Wagon's gracious hostess, Corylie Dias, on behalf of local merchants, services and institutions including: Begbie Glass, Bella Bambini & Quite the Pair, the Columbia Basin Alliance for Literacy, Chantilly Bed, Bath 'n' Kitchen, Ciioer's Foods, Energy Matters, Grizzly Books, Home Hardware, Isabella's Restaurant, La Baguette, Legends and Heros, Mainstreet Cafe, Mountain Meals, Pharmasave, the Nickelodeon Museum, Refinery Day Spa, Revelstoke Credit Union, Revelstoke Florist. Revelstoke Museum & Archives, Roberta's Tanning, Selkirk Graphics, First Impressions,  the BC Bridal Guide, RCTV, Elevation Construction, Norwex Independent Sales Consultant Melissa Jameson, Mary Kay Cosmetics, MacKenzie Dental Centre, Repose Massage Therapy and Day Spa, Peope's Drug Mart, Investors' Group, Shampoo Alley, the Revelstoke Times Review, the Railway Museum. JR Bronzing, the Regent Inn and Revelstoke Parks, Recreation & Culture. She also received a signed certificate from Mayor David Raven.
Here are some additional photos taken Friday afternoon: