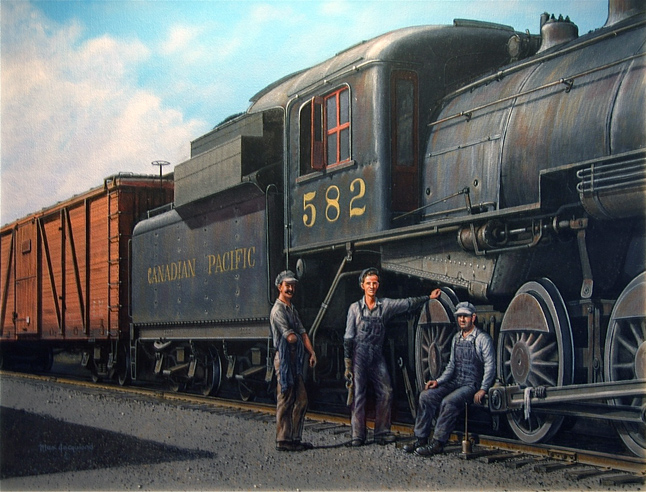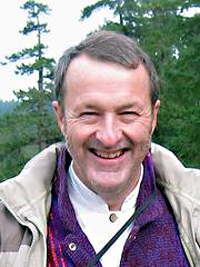 That Morse Code in the headline is the telegraph signal for #9 — all operators stand by — which means a message for every station is about to be transmitted. And it's this: a coffee table book called Train Master: The Railway Art of Max Jacquiard has recently been released, and this is your official notification to read it.
Any railfan and many 'civilians' will know Jacquiard's work. He has been painting trains for three decades now, and is acknowledged among the best on the continent. Interestingly, it was a scene here in Revelstoke which was among his earliest. It shows CPR locomotives 5468 and 2860 (also known as the Royal Hudson) at the former brick station. Soon after that painting was made into limited-edition photographs, Max became exclusively a train painter — mostly of the steam era. He has since produced about 400 originals, and while I'm pleased to own two of them, several other possess 30 to 40!
Railway historian Barrie Sanford has some of the Kettle Valley Railway. He is author of McCullough's Wonder, Steel Rails and Iron Men, plus other BC railroading titles. He and Max are friends, and it shows in his writing of this book. The acrylic artist is certainly deserving of the acclaim, and it comes not too late, because Max is now 78 years old, although still producing 10-12 paintings each year.
I bought my first from Max 20 years ago, just after I helped bring 5468 back to town for the Railway Museum. I wanted a keepsake of that experience, and Max's night scene at the old station was it. On that 1993 journey I met Ernie Ottewell, one of the proponents for what has since become one of the most significant industrial heritage museums in western Canada. As a result, he offered a photograph he had taken of my father in 1949 at Golden. It was a great shot — dad sitting on the siderods of 10-wheeler 582, having a smoke break. Ernie was his fireman at the time; being a railfan even while being an employee! Crews nowadays don't carry that same passion.
I never took permanent work for the CPR, but I did acquire the history and the romance of it from my father. He was a gruff man, but loved steam engines. Max Jacquiard never worked for the rail either, but he clearly loves his subjects and his scenes — he paints nothing else. He grew up near the CNR, but otherwise didn't think about it until taking up painting in his 40s. He was immediately so good that even so-called "bolt-counters" can't find fault with his moments in time. Max achieves this through scouting locations in the field, and through an impressive reference library. When I later commissioned a painting of 582 from him, he consulted with Ottewell and revised his preliminary sketch of that engine's tender because it was one which itself had been modified for that particular run!
About 100 of Max's paintings are included in Train Master, with the choices spread by geographical region, from the Rockies to Vancouver Island. Five railways are represented, with the preponderance being the CP and CNR. Most capture from 1920 to the end-of-steam period, with one setting near Glacier House circa 1903. About a dozen others are from the greater Revelstoke area. Most are simply spectacular, and never before seen because originals disappear into private collections. So far, Max has about 70 made into limited-edition prints for the larger market. The first was an aerial view of 5468 and 2860 crossing the Columbia River here in town.
The photos within the book are well captioned, with an eye for the larger picture, meaning there are lots of details to inform readers, whether their interests are architectural, historical, or about railroading. There is little comment on artistic style or technique, or the painter's conceptual process, which would have made interesting reading. I do wish Sanford hadn't edited his own work. A professional review would have caught spelling errors and getting a loco number wrong (page 85). Style-wise in his writing, I object to the purple prose repetition of scenes described as "majestic." However, such issues can be amended upon reprinting, which I gather is in the works.
Train Master is worth purchasing for yourself and as a gift. Buy it for the passion, the heritage, and for the lost skills of railroaders who built this country. Four point five stars.
Train Master is available from the Revelstoke Railway Museum or from www.chapters.indigo.ca. Limited edition prints by Jacquiard are available from Ambience Gallery, Revelstoke.