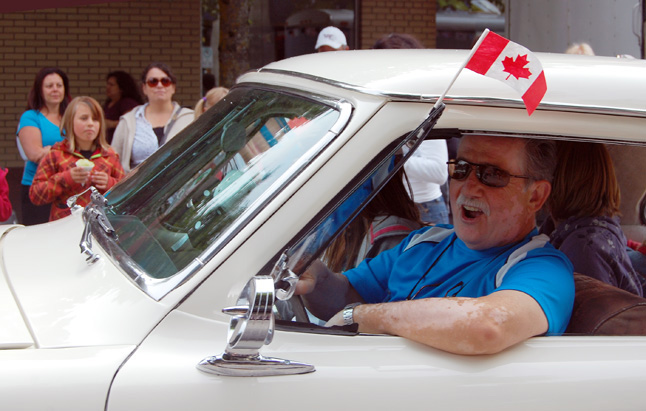 By David F. Rooney
Dennis Berarducci has been selected by the Lions Club to be our new Citizen of the Year. He is an excellent choice for this honourary position because he has for decades proven himself to be the kind of Revelstokian we should all emulate.
Modest, Self-effacing, generous and hard-working, Dennis has dedicated much of his life to making Revelstoke a better place for everyone. Ask him what he loves more — Revelstoke, hockey, vintage cars or kids — and he might be hard-pressed to pick one over the others.
Dennis was one of the first people I met when I moved to Revelstoke 11 years ago and he remains to this day one of my favourite characters. Like a heck of a lot of people I really miss his hot dog stand at the corner of First and Mackenzie. His smokies were great and his outlandish costumes made everyone who saw him smile. Dennis was — still is, really — quick with a joke or a kind word and he always smiled back, even if you didn't buy a hot dog.
I worked with him to try and win Hockeyville status for Revelstoke in 2009 and though we were unsuccessful it was not for lack of trying. Dennis had a host of ideas for promoting the town and he was tireless when it came to putting them in action. It was obvious to everyone who worked on that campaign that Dennis really, really  wanted our city to win. He wanted improvements to the Forum that would make watching hockey in that old barn a pleasure for everyone no matter whether they were local hockey fans or out-of-towners here to watch their kids play against a Revelstoke Minor Hockey team or the Grizzlies.
Dennis worked very hard to put together the History of Hockey displays at the Forum and that alone speaks volumes about his love for Canada's national obsession and his eagerness to glorify Revelstoke's own heros on ice.
He is also loves his vintage cars and during the summer he loves to cruise around town in his classic cream and red Studebaker. He loves to visit and promote car shows and he and the local club are currently planning a massive show of perhaps as many as 400 cars
Dennis, I can't think of anyone who deserves the title Citizen of the Year more than you do.