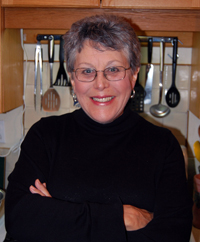 Have you ever torn out your hair trying to find a recipe?  Looking for my own Lemon Gelato, I went though ten pages (arrggh!) of Revelstoke Current archived material before hitting the jackpot. Not surprising, as Savage Delights now totals almost 200 recipes. (Note to self: keep binder updated!)
The index below started as an exercise in self-help. Not to mention self-discipline.  Not long into it, I realized Current readers might also benefit from an orderly list of Savage Delights recipes.
So here it is, a listing of Savage Delights by category—appetizers, soups, mains, and so on—and by month of publication.
The Revelstoke Current Archives Section lists all posts by month, so you can consult the index and go to the archived monthly recipes. Scroll down to Archives on the right hand side of the screen. Click. You will find on the left three different categories: posts by Page, by Month and by Category. Once you identify the month of the post for the recipe you want, click on Month, then scroll down to find the Savage Delights column with your recipe.  Easy as pie!
Editor's Note:
Those of you have missed Leslie's columns — she and her husband, David ,were in China and elsewhere much of this past summer and autumn — take heart!
Leslie Savage's columns about food and food issues will resume in December.
Savage Delights Index
| | | |
| --- | --- | --- |
| Appetizers | | |
| | Baked Brie with Carmelized Onions | Jan 2010 |
| | Beef Chili Mini Bites | Dec 2010 |
| | Bruschetta with ricotta, goat cheese, roasted tomatoes and onion confitBruschetta with venison sausage and mozarellaBruschetta with salmon ceviche | April 2012 |
| | Butternut Squash and Feta in Phyllo | Dec 2011 |
| | Empanadas Colombianas | Jan 2012 |
| | Fasoulia (Lima Beans) | Jan 2010 |
| | Fresh Veggies and Yogurt Cheese Dip | July 2011 |
| | Melon and Prosciutto | Aug 2010 |
| | Pot-Stickers from Felix Huang | |
| | Radish, Ham, Mustard and Mozza on a Croissant | July 2011 |
| | Smoked Salmon Tartlets | Dec 2010 |
| | Tourtiere Crescents | Dec 2010 |
| | Sweet and Sour Meatballs on Skewers | Jan 2010 |
| | Saté Sticks of Pork, Beef or Chicken with Peanut Dipping Sauce | Dec 2010 |
| | White Bean and Garlic Dip | Jan 2010 |
| | | |
| Soups | Scratch Chicken Broth | Jan 2010 |
| | Veggie Detox Broth | Jan 2010 |
| | Bloody Mary Borscht | Jan 2012 |
| | Chunky Veggie Soup | Jan 2012 |
| | Gingered Squash Cream Soup | Feb 2010 |
| | Hang-over Soup | Jan 2010 |
| | Pozole, or Mexican Chicken Soup | May 2010 |
| | Salmon Coconut Chowder | Sept 2010 |
| | Split Pea Soup | Jan 2011 |
| | Winter Minestrone | Jan 2012 |
| Main dishes | | |
| Vegetarian | Almost Thai Curry | Mar 2012 |
| | Coconut Curry with Veggies or Chicken | Nov 2011 |
| | Gypsy Stew with Root Veg, Peppers, Black Beans and Smoked Paprika | Feb 2010 |
| | Leek and Cheese Tart | Mar 2010 |
| | Omelette with Herbs and Cheese | June 2012 |
| | Omelette with Cheddar, Green Pepper and Sauteed Mushrooms | Jan 2011 |
| | Onion and Roasted Grape Tomato TartPastry for Savory Tarts and Pies | Mar 2010 |
| | Roasted Root Medley on Black Rice with  Chili Vinaigrette and Lime Yogurt Sauce | Feb 2010 |
| | | |
| Meat | Beef in Beer | Feb 2010 |
| | Burgers | June 2010 |
| | Ham in Cider | Mar 2010 |
| | Pulled Pork in a Slow Cooker | Mar 2011 |
| | Sausage and BBQ Veggie Salad with Croutons | May 2010 |
| | Slow Cook Ribs in Beer | Sept 2010 |
| | Slow Cooker Pot Roast | Dec 2011 |
| | Standing Rib Roast | April 2011 |
| | | |
| Fish | Broiled Shrimp | May 2011 |
| | Deep Fried Crispy Calamari | Dec 2010 |
| | Halibut with Ginger Garlic Sauce | April 2010 |
| | Lemon Prawns | Aug 2010 |
| | Steamed Mussels or Clams in White Wine | Mar 2011 |
| | Pan-fried Fish Fillets | Mar 2011 |
| | Salmon Cakes | Mar 2010 |
| | Salt-Steamed Salmon Steaks with Stone Fruit Balsamic Salsa | Sept 2010 |
| | Scallops and Noodles in Warm Vinaigrette | June 2011 |
| | Seared Tuna Steaks | June 2010 |
| | Steamed Fish with Sauteed Peppers | Feb 2012 |
| | Whole Fish on Campfire | May 2010 |
| | | |
| Chicken | Baked Penne with Chicken and Veggies | Jan 2011 |
| | Chicken in White Wine Sauce in a Sourdough Loaf | Mar 2011 |
| | Chicken with Orange Sauce | Jan 2010 |
| | Chicken with Adobo Sauce | May 2010 |
| | Duck à l'Orange | Jan 2010 |
| | Kung Pao Chicken | April 2012 |
| | Lime Chicken Curry | Nov 2010 |
| | Lemon Pepper Chicken Pan Sautéed with Carrot Nuggets | July 2011 |
| | Mac 'n' Chicken | June 2011 |
| | One Pan Coq au Vin | Feb 2010 |
| | Red Thai Coconut Chicken Curry | Dec 2010 |
| | Sesame Chicken | Feb 2011 |
| Holiday dishes | | |
| | Roulade of Chicken Breast with Sausage Cranberry stuffing and Cider Sauce | Dec 2011 |
| | Roast Turkey with Mushroom Wine Gravy and Cranberry Sausage Stuffing | Dec 2011 |
| | Roast Turkey with Oregano Rub and Fennel and Lemon-Glazed Pecan Stuffing for Easter Dinner | April 2011 |
| | | |
| Beans, Pasta, and Rice | | |
| | Baked Beans | Jan 2010 |
| | Black Bean Stew with Orange and Chipotle | Jan 2010 |
| | Lentils and Braised Vegetables in Red Wine Sauce | Nov 2010 |
| | Mexican Rice and Lentils | May 2010 |
| | Vegetarian Chili | Nov 2011 |
| | Butternut Squash and Hazelnut Lasagna | Feb 2010 |
| | Spaghetti and Kale or Other Greens | June 2012 |
| | Spaghetti Olio e Aglio (Garlic and Olive Oil) | Jan 2011 |
| | Rotini with Mussels | Jan 2011 |
| | Linguini Primavera | Jan 2011 |
| | Rotini with Salmon in Fresh Tomato Sauce | |
| | Thai Fried Rice | Dec 2010 |
| | Black Rice Pilau in Hobo Packet | May 2010 |
| | Lemon Basil Rice | Mar 2012 |
| | Gold and Red Fried Rice | Feb 2011 |
| Veggie sides | | |
| | Asparagus with Lemon Quarters | May 2011 |
| | Asparagus with Smoked Salmon and Dill Cream | May 2011 |
| | Asparagus with Cheese on Toast | May 2011 |
| | Stir Fried Asparagus | Dec 2010 |
| | Carrot and Parsnip Gratin | April 2011 |
| | Corn Fritters in Beer Batter | Sept 2010 |
| | Braised Eggplant with Peanut Sauce | April 2012 |
| | Creamed Leeks | Dec 2011 |
| | Spaghetti Squash with Garlic and Jalapenos | Feb 2012 |
| | Roast Butternut Squash and Turnip | Dec 2011 |
| | Roasted Golden Nuggets (Squash) | Feb 2010 |
| | Easy Baked Squash | Feb 2010 |
| | Roasted Squash Suns and Moons | Mar 2012 |
| | Parmesan Smashed New Potatoes | July 2011 |
| | Stuffed Spuds | May 2011 |
| | Roast Potatoes | April 2011 |
| | Scalloped Tomatoes | Mar 2012 |
| | Skewered Veggies on the BBQ | May 2010 |
| | Turnip and Apple Gratin | Feb 2010 |
| | | |
| Salads | Arugula and Mandarin Salad with Coconut Shrimp and Ginger Lime Dressing | Dec 2010 |
| | Asparagus, Baby Beet and New Potato Salad with Orange Vinaigrette and Pine Nuts | July 2011 |
| | Avocado, Orange and Roasted Beetroot Salad | April 2012 |
| | Baby Bok Choy and Yellow Beetroot Warm Salad with Feta and Balsamic Drizzle | Jan 2011 |
| | Golden Beet and Orange Salad | Jan 2010 |
| | Robust Chicken Caesar Salad | July 2012 |
| | Fennel and Celery Salad | Jan 2010 |
| | Green Leaf Salad | June 2012 |
| | Harvest Veggie Grilled Salad with Sausage, Croutons and Lime Vinaigrette | Nov 2010 |
| | Prawn and Papaya Salad with Ginger Mint Dressing | April 2012 |
| | Quinoa Salad with Garden Herbs | June 2012 |
| | Curried Quinoa with Roasted Veggie Salad and Creamy Lime Dressing | April 2012 |
| | Warm Potato and Green Bean Salad with Red Onion Slivers | Jan 2011 |
| | Salad Caprese (tomatoes and fresh mozza) | Aug 2010 |
| | Salade Niçoise with Asparagus | June 2010 |
| | Spinach Salad with Pear Balsamic | April 2010 |
| | Spinach Hazelnut Salad with Black Rice, Roasted Butternut Squash and Yogurt Lime Dressing | Jan 2011 |
| | | |
| Desserts | | |
| Cakes | Cappuccino Log (Gluten free) | Feb 2011 |
| | Chocolate Cappuccino Cake | May 2012 |
| | Cranberry Upside Down Cake | Jan 2012 |
| | George's No-egg No-butter Chocolate Cake | June 2010 |
| | Gingerbread with Stewed Rhubarb and Apple | July 2011 |
| | Lemon Pound Cake | May 2012 |
| | Orange-glazed Pound Cake | May 2011 |
| | Chocolate Zucchini Cupcakes | Feb 2010 |
| | Chocolate Cupcakes with Buttercream Frosting | Nov 2011 |
| | Valentine Cupcakes for a Crowd | Feb 2012 |
| | | |
| Puddings | Apple Fool | Jan 2010 |
| | Raspberry Fool | Mar 2012 |
| | Chocolate Pots with Grand Marnier | Mar 2012 |
| | English Trifle | April 2011 |
| | Pear Compote | Feb 2010 |
| | Pots de Chocolat | Feb 2010 |
| | Ruby Rhubarb Crumble | July 2011 |
| | Zebra Torte | June 2010 |
| | | |
| Pies | Apple Tart | Dec 2011 |
| | Apple Pie with Orange Zest Crust | Feb 2011 |
| | Cheesecake with Blueberry Topping | Feb 2011 |
| | Lime Meringue Pie | Nov 2010 |
| | | |
| Cookies | Chocolate Chocolate Chip Cookies | May 2011 |
| | Gingerbread House | Dec 2010 |
| | Lemon squares | May 2011 |
| | | |
| Ice Cream | Blueberry Granita | Aug 2010 |
| | Chocolate Storm Gelato | Aug  2010 |
| | Hazelnut Chocolate Ice Cream | April 2010 |
| | Ice Cream with Fig and Pistachio | April 2010 |
| | Lemon Cream Gelato | Aug 2010 |
| | | |
| Sweets | Chocolate Dipped Strawberries | |
| | Chocolate Marble Bark | Feb 2011 |
| | Hazelnut Ganache | April 2010 |
| | | |
| Breads | Morning Glory Muffins | Jan 2012 |
| | Easy Pizza for Cooks Under 12 | June 2010 |
| | Geoff Battersby's Whole Grain Bread | Feb 2011 |
| | Lara's Recommendation: No-Knead Artisan Bread from Hertzberg and Francois | Feb 2011 |
| | Beer Bread (Tall Timber) | Sept 2010 |
| | Lorna's Lovely Lemon Loaf | Nov 2010 |
| | Cheese and Onion Biscuits | Jan 2010 |
| Condiments | Provencal Aromatic Infused Oil | August 2010 |
| | Berry Vinegar | Aug 2010 |
| | Pecan Pesto | Aug 2010 |
| | Dried Italian Herb Seasoning | Aug 2010 |
| | Dessert Dried Herbal Blend | Aug 2010 |
| | Bouquet Garni Dried Herbal Mix | Aug 2010 |
| | Date Apricot Chutney | Jan 2010 |
| | Crispy Fried Ginger Sticks | April 2012 |
| | Nasturtium Vinegar | Aug 2010 |
| Sauces, salsas and dressings | | |
| Dressings | Creamy Lime Dressing | April 2012 |
| | Orange Vinaigrette | July 2011 |
| | Chipotle yogurt Mayo | Mar 2011 |
| | Yogurt Lime Dressing | Jan 2011 |
| | Garlic Ginger Sauce with Lime Zest | April 2010 |
| | Ginger Lime Dressing | Dec 2010 |
| | Green Goddess Herb Dressing | June 2012 |
| | Chili Vinaigrette | Feb 2010 |
| | Salad Vinaigrette | April 2010 |
| | Yogurt Dressing | Jan 2010 |
| | | |
| Savory sauces | Aji Picante Colombiana | Jan 2012 |
| | Orange Sauce for pork, duck or chicken | Jan 2010 |
| | BBQ Sauce for Pulled Pork | Mar 2011 |
| | Guacamole | Mar 2011 |
| | Fresh Tomato Sauce with Black Olives | Sept 2010 |
| | | |
| Salsas | Orange Salsa | Jan 2010 |
| | Stone Fruit Salsa | Sept 2010 |