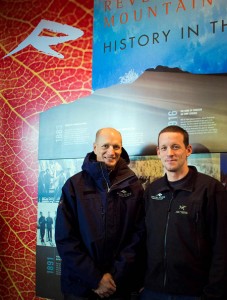 Revelstoke Mountain Resort has announces two new appointments to its management team.  Rob Elliott has been appointed General Manager and Mike Verwey has assumed a new role as Mountain Operations Manager.  Both men have been involved with the resort since its inception.
Elliot's history includes extensive work in mountain operations, various business ventures, and time in the accounting world.   Operating RMR's cat-skiing operation for the past few years, Rob is passionate about skiing, the mountain and the city of Revelstoke. His experience as a backcounty guide, mountain patroller, and even a production faller at the resort will prove to be invaluable in his new role as General Manager.
"To find the talent and experience that Rob offers, literally in our own backyard, is an exceptional opportunity," President Graham Rennie said in a statement announcing the appointments.  "Highly qualified on the technical side with advanced avalanche certifications and training and having a deep understanding for our operations through running our cat ski program make Rob the ideal candidate."
As the General Manager for Revelstoke Mountain Resort, Elliott will oversee all operations, auditing for efficiency and effectiveness but he said in the statement that his ultimate goal as GM is to "build bridges and improve relations with the community while offering a personable, authentic, and genuine experience to our guests."
Mike Verwey was the Lift Maintenance Manager since RMR's opening in 2007. He brings 18 years experience in the industrial mechanic field along with an intricate understanding for the overall mountain operations to his new role as Mountain Operations Manager. In this new role, he will be responsible for all on-mountain operations including patrol, maintenance, lift operations, grooming, and snow making.  Over the past five years, Verwey  has earned a reputation through strong leadership and a genuine passion for his work.