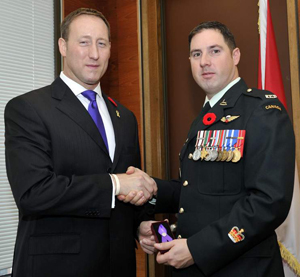 Ministers of National Defence Peter MacKay and Veteran Affairs Steven Blaney have announced the creation of the Memorial Ribbon, which will be offered to close family and friends of deceased Canadian Armed Forces members as a memento of personal loss and sacrifice, Kootenay Columbia MP David Wilks said in a statement released Wednesday afternoon.
"The Conservative Government has enormous respect for the men and women who have made sacrifices in service of their country," he said.
The Memorial Ribbon is a profound demonstration of our care and concern for Canada's military families — not just the men and women who bravely serve our country, but their families and other loved ones who have sacrificed so much for us.
"With the new Memorial Ribbon, our Government is ensuring that those who are not usually designated as potential recipients of the Memorial Cross will be able to honour their loved ones by wearing this Memorial Ribbon with pride," Wilks said.
The Memorial Ribbon will now be part of the Memorial Package, which currently includes the Memorial Cross, the Memorial Scroll, the Memorial Bar, the Sacrifice Medal and inscription in the Seventh Book of Remembrance.