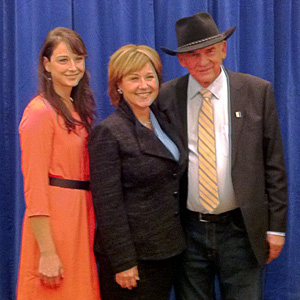 By David F. Rooney
Outspoken local BC Liberal Peter Bernacki is confident his party will be ready to win in next year's election.
"I was very impressed with her (Premier Christy Clark's) performance at the convention," he said in a brief interview on Thursday.
Bernacki said Clark covered all the bases and appeared well-informed and ready to go. She also appeared to have the backing of her cabinet and even former opponents within the party.
Clark has been touring the province and speaking to voters — primarily women at many of her appearances — and working the news media.
Bernacki attended the weekend convention with other local Liberals, including Nick and Ashley Soberly and George and Bea Buhler.
"The delegates from Columbia River-Revelstoke made an impression," he said, adding that they asked questions about highway policy and other issues of local interest.
Clark last visited the riding at the beginning of August. There's no word of her next appearance here, but Bernacki said she will be attending a planned party for George Abbott in Salmon Arm on November 10.