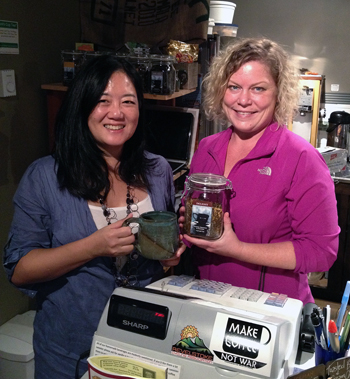 By David F. Rooney
Keeping taxes down, minimizing red tape and doing what is required to keep BC a desirable place to invest are just a few of the messages Naomi Yamamoto, BC's minister for state for Small Business, is taking back to Victoria after touring the Kootenays this past week.
"It's important for me understand what matters to the men and women who have small businesses," she said in an interview at Sangha Bean Cafe on Thursday afternoon. "Wen people talk about the issues that matter they talk about eliminating red tape, keeping property taxes down and the lack of skilled labour. I'm getting a good sense of what's important to small business owners."
Some of this is not news to Yamamoto. Afer graduating from UBC in 1982 she helped her parents run the three Japan Camera photomat shops they owned. In 1988 she opened her own small business —Lasercolor Design & Printing —  with a partner. She ran that for 22 years and with a growing clientele in the film and television industry who needed props, the business was renamed Lasercolor Business Graphics and Props. She was also a chairwoman of the BC Chamber and was pleased to meet and talk with a number of Revelstoke Chamber members, including Michelle Nagy and Brydon and Jason Roe.
There's plenty of hard work when you own a small business but the rewards are incomparable.
Speaking personally, Yamamoto, MLA for North Vancouver-Lonsdale, said she most enjoyed forging true relationships with her clients and customers when she still ran her firm.
Listening to what small business operators have to say is part of Yamamoto's job and she speaks about her portfolio with enthusiasm and deep awareness of what's at stake for the province.
One of the things she has been doing is meeting with business owners interested  in the BC Small Business Accord Consultation which is intended to  make BC one of the most business-friendly jurisdictions in the country. She was to meet with a number business owners at the Hillcrest on Thursday evening.