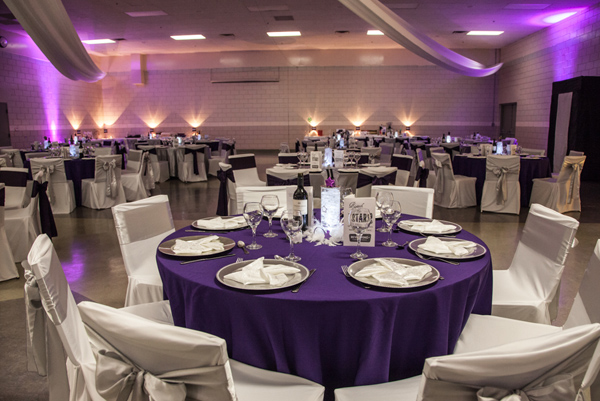 By David F. Rooney
The Chamber of Commerce celebrated the best of Revelstoke's nearly 1,000 businesses on Saturday evening crowing the Modern Bakeshop & Cafe as the Business of the Year, Malcolm Bott of Universal Footwear as the Business Person of Year and Maryanne Krestinsky as the Employee of the Year.
The Chamber's annual Business Excellence Awards were a nearly sold-out affair at the Community Centre. Catered by La Baguette, celebrants dined on prawns, roast beef, roast pork, scalloped potatoes and a variety of salads. They polished all of that off with a selection of exquisite desserts including cheesecake, brownies, carrot cake and a gelato bar. The wet bar, meanwhile, was managed by the Rotary Club.
During a few brief remarks, Mayor David Raven noted that the City has issued over 900 business licences, which attests to the growing health of the local economy.
After dinner, Chamber members and their guests including new BC Liberal party candidate Doug Clovechok and Michael Eibl of the Business Development Bank, eagerly waited to learn who would win this year's crop of Business Excellence Awards. The 2012 award winners were:
Employee of the Year — Maryanne Krestinsky of Home Hardware;
Tourism Attractions Excellence — Revelstoke Railway Museum:
Food Service Excellence —  La Baguette;
Accommodations Excellence — Best Western Plus;
Omdustrial and Manufacturing Excellence — Battersby Plumbing and Gas Fitting;
Retail Excellence — Revelstoke Equipment Rentals;
Youth Employer — McDonald's;
Entrepreneurial Excellence — BA Sausage;
Home-based Business Excellence — Stoke FM;
Community Support Excellence — Pharmasave;
Business of the Year — The Modern Bakeshop & Cafe;
Business Person of the Year — Malcolm Bott of Universal Footwear
Here are some photos from the evening event that we hope you'll enjoy: