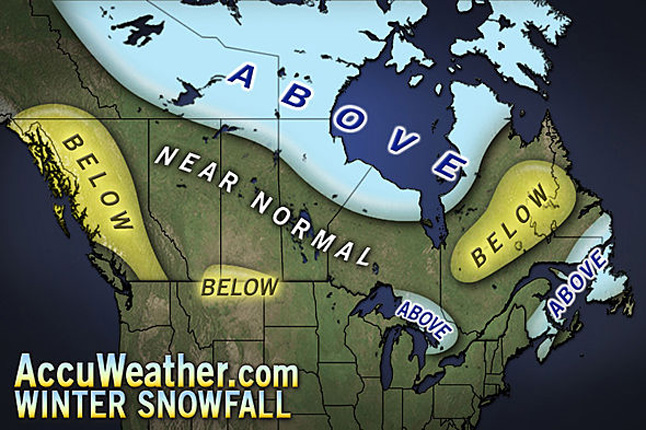 By David F. Rooney
There are all kinds of folklore associated with weather predictions. According to some, who can tell there will be a bitter winter in November is warmer than usual, You can also tell that winter will be bad if wooly bear caterpillars have thick coats.
There are more traditional signs to look for, of course, but no matter what stock you place in folklore, it's hard not to look at the snow line marching down the mountains without wondering if it will be a good winter or a bad one.
The Farmer's Almanac and Accuweather have both issued new predictions for the coming season
According to Accuweather.com  "portions of Alberta and British Columbia may be chilly, a drier-than-normal pattern is expected
"British Columbia has already endured water shortages resulting from a record dry fall and drier weather this winter may add stress to the situation," Accuweather's Justin Roberti said in an e-mail to The Revelstoke Current.
"Meanwhile, the door will be open for shots of arctic air across British Columbia and Alberta at times this winter. For Vancouver, I think the winter overall looks drier than normal with near-normal temperatures. But with this type of pattern, a drier pattern, the nights are going to be chillier than normal. Also, this opens the door to some quick shots of arctic air," Anderson added. "In terms of storms, storms will be weaker but colder, so that could favor snow a little bit more than we usually see. Near-normal snowfall is predicted for the Canadian Rockies, likely to the delight of skiers, while Alberta Clipper systems graze the area. With cold air, the snow that falls will stick around through much of the winter and into spring."
The Farmer's Almanac says winter will return to some – but not all – areas.
"It will be a winter of contraries," says editor Peter Geiger. "It's like Old Man Winter is cutting the country in half. The eastern half of Canada will see plenty of cold and snow. The western half will experience relatively warm and dry conditions."
Areas from Alberta and Saskatchewan east into the Maritimes will see a colder than normal winter with many locations experiencing above normal precipitation. But for British Columbia – chiefly those areas west and south of the Rocky Mountains – the overall winter will be milder and drier than normal, Geiger said.
That could be interpreted as good news, if you hate shovelling the white stuff — or bad news, if you're an avid skier or boarder.