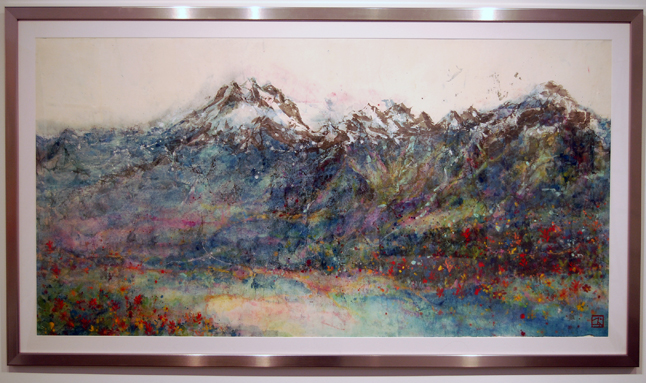 By David F. Rooney
The three shows that are opening Friday at the Visual Arts Centre — My Revelstoke: four seasons' beauty, The Bugaboos: a celebration in story and images and The Subtle Body — will transport you  from inspired perspectives of our mountain landscape to an amazing vision of the human body.
Local artist Chloe Juwon Kim's exhibition, My Revelstoke: four seasons' beauty, consists of 30 works, all created using Asian pigments on paper. Since coming to Revelstoke a few years ago Chloe has proven herself to be a remarkably productive artist. I say remarkably because she produced all of these works — some of them quite large — while caring for two small children.
One thing you will note as you tour the show, which occupies the main gallery, is that Chloe appears enchanted with the Indian paintbrush. Those bright red flowers adorn many, if not quite all, her works. You can find out more about Chloe Juwon Kim here and here.
The second show opening at 6 pm is The Bugaboos: a celebration in story and images from the Golden Art Gallery. This show in Sophie Atkinson Gallery consists of 12 panels showcasing 35 images accompanied by anecdotes about those mountains. The photography is lovely and inspiring.
The third exhibition is Barbara Maye's The Subtle Body. Her 15 acrylic paintings depict a variety of yoga poses.
"I wanted to depict ordinary people," the Nakusp artist said as she and Jackie Pendergast, the Visual Arts Centre's executive director, hung the canvases in the two side galleries at The Centre.
I found Maye's choice of hot and cool colours and the portions of the human body she highlighted quite fascinating. You can find out more about Barbara Maye here, and you can see for yourself if you attend the opening this Friday (October 12) between 6 and 9 pm. The Centre is located at 320 Wilson Street. The show is open to the public Tuesday through Saturday from 12-4 pm until November 2. For more information please call 250-814-0261 or send an e-mail to info@revelstokevisualarts.com.
Here are a few images from the show that I hope you'll enjoy"