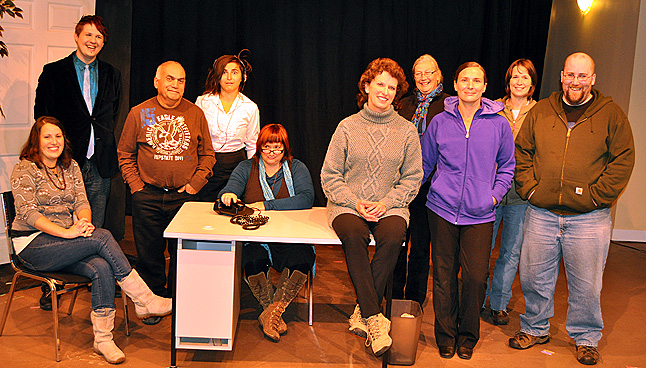 By David F. Rooney
A ticket to the Revelstoke Theatre Company's Short Shorts is better than a 649 lottery ticket because there's no element of chance involved with this: everybody who purchases a ticket will win an evening full of laughs — not a barrel of unfulfilled dreams.
I had the pleasure of attending the company's last dress rehearsal on Tuesday evening and found the six short plays on offer to be — by turns — quirky, delightful, demented, gently amusing and even laughingly lascivious.
Hey! You even get to hear Denny Kaulback as The Voice of God. That's definitely worth a belly laugh all by itself, isn't it?
There are six plays in Short Shorts:
Aspiring Francine by Don Hannah, directed by Darren McKay and starring Patti

Shonek

and Ana

Pollo

;
The Audition by Michael

MacLane

, directed by Lyn

Kaulback

and starring

Satish

Shonek

and Dante Hamilton;
You May Already Be A Winner by Michael 

MacLane

, directed by Martin Ralph and starring Robyn

Abear

and Darren McKay;
On The Door by Eric 

Weinthal

, directed by John

Devitt

and starring Imogen Whale and Janet Pearson;
Thirty-Six C by Paula Wing, directed by

Jacolyn

 

Daniluck

and starring Gillian

MacLachlan

and Emily Beaumont; and
Firing Francine by Don Hannah, directed by Denny

Kaulback

and starring Sarah Harper and Tanya Peters.
Each of them is distinct, short (about 10-15 minutes or so each) and certain to both capture your attention and tickle your funny bone within seconds.
I thoroughly enjoyed each of the plays (all but On The Door, whose cast was not present for that last dress rehearsal) but I won't say much more about the individuals shorts for fear of giving away the delightful surprises each one contains. But I can say this about them:
Aspiring Francine cleverly captures the differences between flighty youth and the mature manager who is, shall we say, a bit of a bag;
Ever wonder what happens to people asked to step into the office of a suspicious US Immigration official? The Audition

answers a traveller's deepest fears — at least it does if you're a waiter from Red Deer trying to fly to LA; 

You May Already Be a Winner shows us how even the most artful dodge can go wrong;
Thirty-Six C is an hysterical and laughingly lascivious take on bra fittings and breast research; and
Firing Francine? This is perfect for everyone who has had a particular kind — and very obsessive-compulsive — of employee.
With six directors and 12 cast members this is one of the larger productions staged by the Theatre Company. And they are all done using a very
simple set that works well in the ambiance of the McGregor Room at Powder Springs.
"Normally it's the community musicals that attract this many people," says producer Anita Hallewas. "These little plays are short and all very funny. Some will make you laugh out loud!"
She said in an interview that the brevity of each play was very attractive to the actors and actresses — six of them brand new thespians — who signed on for this production.
"They're only about 10 minutes each for they're not intimidating," Hallewas said. And she was right. There were only two brief moments where cast members lost their lines.
These plays are adult and won't hold the attention of anyone under 12, but they will be fine for anyone over that age to see as there is virtually no bad language and even Thirty-Six C (which will certainly appeal to absolutely every woman who has ever had a bra, as well every guy who has ever wondered about the proper way to put them on[… that all of us]) contains no need nudity, despite its lascivious content.
There is an intermission half-way through each evening's presentation so you can buy a drink in the Mackenzie Room  and chat with your friends. And if you want a drink in the Last Pub afterwards you can get 15% off the pub's menu if you show them your ticket.
Short Shorts is being shown in the McGregor Room at the Powder Springs Inn on November 1, 2 and 3 and on November 8. 9 and 10. The doors open at 7:30 pm and the curtain rises at 8. Tickets are $15 for adults and $12 for seniors and students. They are available at the front desk at Powder Springs, at the door or click here to purchase some in advance. Call 250-837-5151 if you have questions.