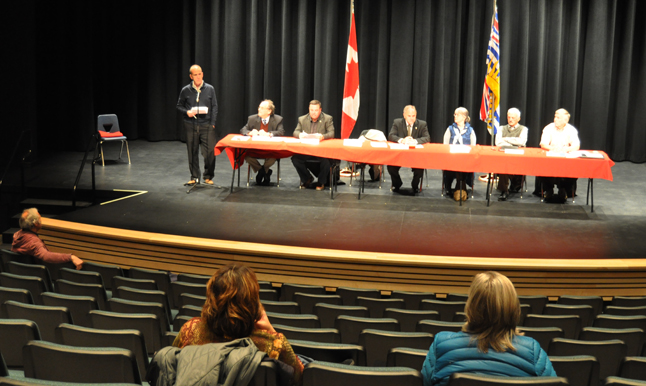 By David F. Rooney
City Council's Town Hall-style meeting at the Performing Arts Centre Thursday was an interesting but sparsely attended affair.
Only 44 people showed up — 11 of those were City officials of one kind or another and two were children — which was disappointing as it was an excellent opportunity to question Mayor David Raven and Revelstoke's six Councillors about municipal affairs.
Certainly, the folks — several of whom were young residents — who did attend were interested.  They asked question about topics ranging from taxation and airport expansion planning to a mining venture's proposal to open a zinc-lead mine 100 kilometres north of town and ways to encourage investment in Revelstoke.
Each of the City's six Councillors spoke briefly about their portfolios. Tony Scarcella spoke economic development, Chris Johnston talked about culture and social issues, Linda Nixon touched on planning, Steve Bender talked about the budget and finance, Gary Starling discussed parks, recreation and culture and Phil Welock went over engineering and public works, the fire rescue service and policing. Mayor David Raven described the big picture facing Revelstoke as well as its relationship with Revelstoke Mountain Resort.
The resort was the focus for the first question of the evening from Connie Brothers who said there appears to be "a major disconnect" between the City and the resort.
Mayor Raven acknowledged that "in the last few years it has been more a challenge" than in the first year or two of its operations. Part of that is due to the fact that development has not unfolded as anticipated in the years between the 2005 signing of the Master Development Plan and its opening in 2007.
Residential development, as well as golf course construction, at the resort have not been as brisk as most people had hoped. That's largely, but not entirely, due to the economic downturn since 2008. Northland Properties has also been involved in legal actions involving golf course designer Nick Falso, a number of people who had purchased  condos on Mount Mackenzie and, most recently, the province's Resort Development Branch.
"There is no village core up there and there may not be for some years," Raven said.
But the resort does appear to be gaining in popularity, Raven said, with what RMR says is steady growth in the numbers of skiers who visit the resort. The resort's figures are somewhat phantasmagorical because it never releases real numbers — just percentages allegedly based on previous season visitor-user figures.
While Revelstoke's population has, according to Census Canada, continued to shrink there are signs of growth. Downie Timber is running 2.5 shifts, there have been 16 new homes built within city limits, and Linda Nixon said Council anticipates that construction of a new hotel and restaurant at Steve Platt's Revelstoke Landing site near the Subway will (Finally!) go ahead in 2013.
The long-awaited Unified Development Bylaw will be brought back to Council in November and it is likely to address a number of issues including carriage house and vacation rentals and an urban livestock policy to manage backyard chicken coops, she said.
The City's willingness to tackle current and anticipated environmental challenges was highlighted by Councillor Chris Johnston.
"Ten years ago this wasn't on the radar," he said. "That's changed."
The City is adhering to its contractual obligations with the province on climate change preparations and is planning for the future by continuing to explore water metering and an improved water strategy.
"Water is life," he said. "The water here is great but there are threats to it."
New resident Ana Pollo asked about the potential impact a proposed led-zinc mine could have on local water and Johnston, who hadn't heard about it, promised to look into the issue. He did not, however, that it would not have an impact on drinking water because Greeley Creek is the source of Revelstoke's potable water — not the Columbia River.
Steve Bender discussed "the arithmetic of Revelstoke," by outlining this year's $27 million budget and the welcome input over the last two budgets from the so-called Budget Focus Group. A new focus group of advisors has just been selected and will soon begin looking at next year's budget, he said.
Parks, Recreation and Culture are Gary Starling's responsibility and he outlined some of the development within that portfolio, including the replacement of the Aquatic Centre's original salt water purification system with a chlorine-based system.
For his part Phil Welock talked about the hiring of a new director for Engineering and Public Works and the progress made on infrastructure renewal. 2013 will see improvements along Nichol Road and in Lower Town as well as the start of an anticipated 20 years of gradual future improvements to the sanitary sewer system.
Mayor Raven encouraged people to continue asking questions of him and the rest of Council. They are — despite what some people think — pretty accessible. Council meetings are held on the second and fourth Tuesday of every month starting at 3 pm at the Council Chambers located in Suite 102, 103 Second Street East. You can also reach them all via e-mail  (click here to access the City website's page of e-mail addresses). And, on Mondays, the mayor is in office and open to seeing anyone who wants raise an issue with him. For more information you can also call the City administration office at 250-837-2911.
On a final note, this kind of Town Hall-style meeting — this was the third one held — is an excellent way for concerned citizens to meet and interact with the Mayor and Council.