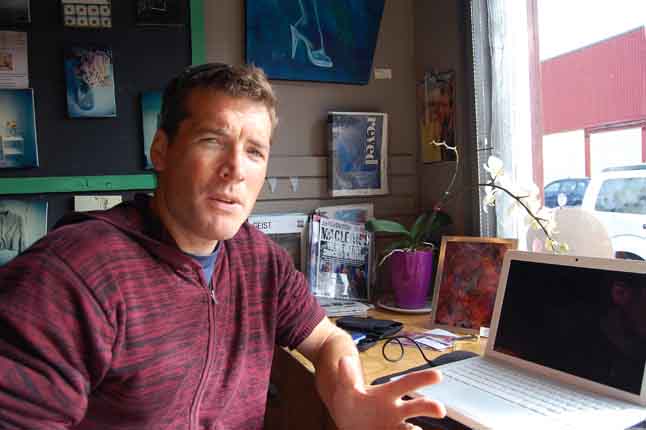 By David F. Rooney
Every autumn for the past six years JP McCarthy has been heading north and east to Churchill, Manitoba, to show visitors that small town's magnificent polar bears.
But now the bears are in trouble and may be on their way to extirpation as the Arctic warming trend continues. Concerned about their gradual disappearance, McCarthy is holding a slide show of his remarkable polar bear photos at the Community Centre this Saturday, October 6, at 7 pm.
"They're on their way out and it's not hard to see why," he said in an interview at Sangha Bean cafe on Monday.
"Six years ago when I first arrived there, you had to wear a down jacket in October and November, now all you need is a fleece."
The warming trend set in motion by climate change has shrunk the ice cap by well over 30 per cent and the bears are suffering and dying.
"It's pretty emotional and it's telling us something," he said. "I'm not going to be preachy but the climate change is very real."
McCarthy is not a scientist, but after six years of guiding some of the 10,000 people who flock to Churchill each year to see these magnificent animals he ing the bears and he has gained some insight into the lives of these animals and what appears to be their probably future.
"Part of the point I'm trying to make is that people — Canadians — should go and see them while they can," he said. "This is one of those trips people should take."
Admission to McCarthy's slide show is free but he is also holding a raffle and all proceeds from that will go to Polar Bear International, a conservation and research organization focused on the fate of the great white bears. Prizes in this raffle include $2,400 ski package put up by Mustang Powder as well gift certificates and other items put up by local businesses.
McCarthy is sure his slide show will appeal to families and hopes plenty of local children will be in the audience to see animals that could well be gone by the time they are adults.
Here are some of the images you can expect to see: