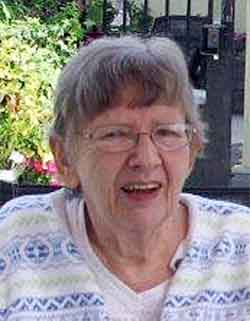 Early on September 29 our sweet mother, Phyllis Stier, died in Kamloops, BC, with daughter-in-law Janet by her side.  Members of the family had been with Mom each moment for a week so, thankfully, we were all able to say good-bye.
Phyllis was born in Nelson, BC, to Cyril and Clare Turner and was soon joined by her brother Frank.
Mom met dad, Norbert Stier, on a blind date!  After they were married in July 1950, Mom was whisked from the lively little city of Nelson to Greeley (near Revelstoke).  There her neighbours consisted of her in-laws Josef and Emilia Stier, some horses, cows, dogs and bears.  When her first two children were nearing school age, the family moved to Revelstoke, but the adventure didn't end there.  Dad's love of rural life led them to a gas station in Malakwa where a series of disasters including a fire took them back to Revelstoke.  After Dad retired, they were off again this time to New Denver.  When this large property became too much, back to Revelstoke they went.  When Dad died, Mom moved to Kamloops with son Ron and family and spent her final days in Pine Grove seniors' facility.  There she was very well taken care of and truly loved.
Although Mom never rode a bicycle, had a driver's licence or flew on a plane, she was famous.  Famous for her love of children, her renowned pickles and baking, and, especially, her beautiful, original sweaters that adorn all members of her family.  Mom volunteered in many capacities both in New Denver and Revelstoke.
Phyllis is survived by her children David (Dorothea), Julie (Steve Smith), Ron (Janet), Leanne (Shaun Thompson), her grandchildren: Joel, Jesslyn (Ajay), Cassandra, Leigha, Jeffrey and Brooklyn and great-granddaughters; Rebecca and Jaya.
We'll always miss you, Mom, and as long as we're living, you will be too!
Message of condolence may be sent to the family by visiting Phyllis' obituary notice at www.brandonbowersfuneralhome.com
A graveside service will be held in Mountain View Cemetery, Revelstoke on Saturday, October 6 at 1 pm. After the graveside service a celebration of Phyllis' life will take place in the common room of Selkirk Gardens, 311 East 6th Street.
In lieu of flowers memorial donations to the Alzheimer's Society of B.C. would be most appreciated.
Arrangements are in the care of Brandon Bowers Funeral Home, Revelstoke, B.C.  250-837-2029