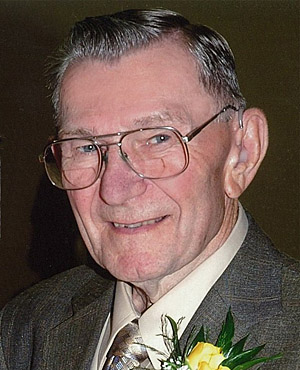 Lyle Lloyd Merritt passed away at Queen Victoria Hospital, Revelstoke on Sunday, October 21st, 2012 at the age of 80 years.  Lyle passed away peacefully with his family at his side just six days after his wife Ann passed away.  A Celebration of Life will be held for both Lyle and Ann at the Revelstoke Community Center on Monday afternoon, October 22nd at 1:30 p.m. with Reverend Ken Jones and Mr. Gary Sulz officiating.  In lieu of flowers, memorial contributions may be made to a Bench Fund c/o City of Revelstoke, Box 170, Revelstoke, B.C. V0E 2S0, in memory of Lyle.
Lyle was born in Chatham, Ontario on March 8, 1932 and had been a resident of Revelstoke since 1963.  Lyle was a member of the RCMP for five years, worked in the logging industry and was a fireman in Chatham, Ontario.  In Revelstoke Lyle was manager of the Revelstoke Review, a Manulife Insurance salesperson, Head Security Guard for the CPR Mt. MacDonald Tunnel project, and owned and operated the Big Eddy Store.  In summers he worked for 3 Valley Gap and in the winters drove for Selkirk Tangiers.  He was a member of the Kinsmen, K40's and Rotary Club.  Lyle served as a school trustee and was active in the United Church.  He was kept busy helping out his wife Ann with her committees and volunteering and was always happy to be involved and helping out.  Lyle especially enjoyed time with his children and grandchildren.
Lyle was predeceased by his parents, his son Craig and his beloved wife Ann.  He is survived by three children: Randy Merritt of Calgary, Tracey (Gord) Anton of Kelowna and Todd Merritt of Kelowna; six grandchildren: Mathew, Mitchell, Parker and Madison Merritt; Amy Anton and Andrea (Dimitri) Andrich and one great grandchild "on the way"; one sister Ruth Ann (Richard) Gilbert of Chatham, Ontario as well as numerous in-laws, nieces & nephews.
Messages of condolence may be sent to the family by visiting Lyle's obituary notice at www.brandonbowersfuneralhome.com.
Cremation arrangements are in the care of Brandon Bowers Funeral Home, Revelstoke.