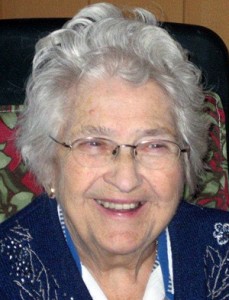 Edith Lorraine Freeman passed away at Three Links Manor in Kelowna, B.C. on Saturday, October 27, 2012, at the age of 85½ years.  There will be no formal funeral service by Edith's own request.
Edith was born in Penticton, B.C. on March 21, 1927, and lived there as well as in Revelstoke for a short time.  For the past three years she had been living in Kelowna.  She was a member of the Royal Purple in Revelstoke & Penticton as well as the Eastern Star and Legion Ladies Auxiliary in Penticton.  Edith was an accomplished seamstress who made beautiful clothing as well as wedding dresses.  She was an animal lover but was especially fond of all of her cats.
Edith was predeceased by her husband Cable Freeman in 1988.  She is survived by three daughters: Arlea (Wayne), Lana (Blake) and Shelly (Herb); four grandchildren: Diane, Christopher, Leah and Laura; one great grandchild Gabriel as well as her sister Yvonne Davidson.
Messages of sympathy may be sent to Edith's family by visiting her obituary at www.brandonbowersfuneralhome.com.
Cremation arrangements were in the care of Brandon Bowers Funeral Home, Revelstoke.