Nickelodeon Museum offers to amaze you
The Nickelodeon Museum is holding an open house on Saturday for the public to mark the centenary of  the McKinnon Block building that houses it.
First built in 1911, by Hector McKinnon, the substantial brick building at 111 First Street West was actually a pool hall (known as McKinnon's pool hall) when it was first created. The building was one of the nicest and best-made buildings in the Interior of British Columbia at that time. The main floor housed a small tobacconist store and behind the store were a barber shop and a bunch of pool tables. On the top floor there were a few apartments which were rented out.
Over the years, the McKinnon Block has had a checkered history, having been used as a dance hall, a disco, a mini-shopping mall, a dental surgery and now a museum!
The original tin ceiling on the main floor (Revelstoke's largest tin ceiling by a far.) has been carefully restored by the Evans'. Thus, the City of Revelstoke and the Heritage group awarded the Museum with the 2006 Commercial Renovation Award for its efforts.
This heritage building is proudly shown in a form almost the same as it was when originally constructed, though concessions to the 21st century have been made and a modern heating system has been installed.
Home to the Nickelodeon Museum since 2005, the building now features rare, old musical machines and all sorts of unusual and unique musical instruments. If you enjoy strange and interesting machines from the past, then the four trailer loads of instruments the Evans family brought with them from England when they emigrated will delight you.
The building forms a most beautiful setting for the collection within it and the acoustics complement the musical presentation perfectly…few modern buildings have ceilings 16 feet high (5 metres)!
The Open House for the public runs from 2 pm until 5 pm. If you've never been inside the museum it's time you went. You will be amazed.
Click here to visit the museum's website.
***
Why no kokanee this year?
Wonder why there are so few — or none — spawning kokanee in area streams? You're not alone, provincial biologists are stumped, too.
Among the possible reasons, according to biologist Jeff Burrows, are:
 Parent generation (2008) was low;
High water this year may have pushed kokanee downstream of Hugh Keenleyside Dam (most wouldn't make it back);
High water may have diluted productivity and/or food availability, reducing either survival, or growth rates and so delaying maturity until next year;
High kokanee fry densities in the 3 years following this 2008 age group of kokanee, through competition for food, may have reduced their survival or delayed their maturity; and
A kokanee kill in May of this year may have reduced the number of spawners but most of the observed mortalities at that time weren't of the 2008 age group maturing this year (we weren't able to determine the cause of this kill, there were no chemical spills, for example).
***
City hires Simon Hunt as its new Emergency Preparedness Coordinator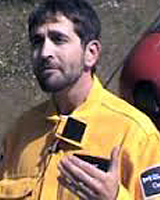 Parks Canada Fire Management Specialist Simon Hunt has been hired as the City of Revelstoke's new Emergency Preparedness Coordinator, Fire Rescue Services Chief Rob Girard told City Council on Tuesday.
Hunt will begin his new part-time position in January. He will remain at Parks Canada as their go-to guy where fires are concerned.
Hunt worked on the city's wildfire strategy and has extensive experience in that field with Parks Canada. He replaces Jerry Silva whose conract expired this autumn.
***
Council okays new on-leash/off-leash locations
 City Council has given final reading to an amendment to Animal Control and Licensing Bylaw No. 1758. The amendment clarifies where people may let their dogs run leash-free and where they have to keep on a leash.
In essence, you do not need a leash if you walk your dog along the dike in the Big Eddy, along the river from Centennial Park to the Greenbelt, the Greenbelt itself and the flats south of the Illecillewaet River.
However, you do need to leash your animal if you are walking it along the paved trail from Centennial Park to the Fourth Street Bridge or on the path that leads from that trail to the new Pedestrian Bridge.
Click here to view a map issued by the City and its formal bylaw amendment.
***
New snow loads decreed by Environment Canada
Environment Canada has increased the permissible  snow load levels for all new buildings in Revelstoke to 7.2 kPa (150 pounds per square foot) from 5.8 kPa (121 pounds per square foot).
This prompted City Council to order a change to the local Building Code.
The change applies only to new buildings. Click here to see the new bylaw and the list of snow loads.
***