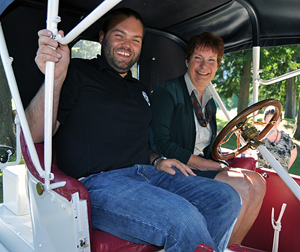 The Board of Directors for Friends of Mount Revelstoke and Glacier National Parks has announced that it has accepted the resignation of its popular executive director, Neills Kristensen.
His last day of work will be November 15, as he will be relocating to Vancouver.
"Neills' work and dedication to the organization has been a huge asset for us and the community of Revelstoke," FMRG Travis Hunt said in a statement released on Friday morning. "Neills has worked hard developing many great events and activities for the community and visitors to enjoy. The newest project was the renovations at Balsam Lake Bookstore including the creation of Alpine Commons deck on Mount Revelstoke National Park. During his five and half years Neills has  overcome many challenges but as always kept a positive attitude."
"I would like to thank the Board of Directors, Parks Canada, and the community of Revelstoke and all of those I have had the chance to work with," Kristensen said in the statement. "My time in Revelstoke has been a memorable one with many great experiences I will never forget."
He told The Current after the board's Tuesday evening meeting that he doesn't yet have anything lined up in Vancouver, job-wise. But he does have a place to live and will begin pounding the pavement when he gets there.
In the meantime, he will act as an advisor to the board and the staff members who will keep the society's shops running at the Rogers Pass Centre and in downtown Revelstoke this winter.
The society's board and support staff will be stepping in to ensure all projects and activities associated with the Friends of Mount Revelstoke and Glacier will continue as planned, Hunt said in the statement.
Hiring for the executive director position will not happen until spring of 2013. More details about that process will be announced at that time.