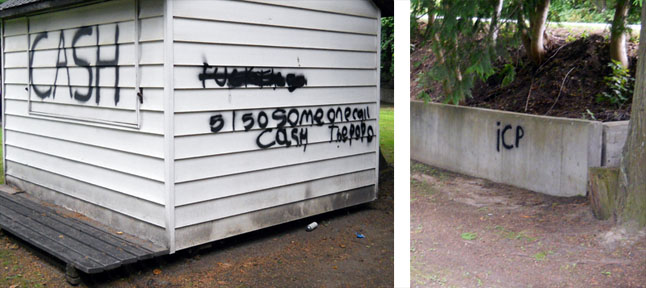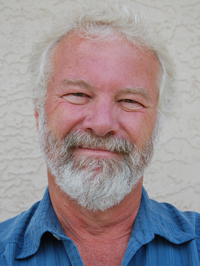 An RCMP News Release: Some time during the late night of September 2nd or the early morning hours of September 3 an unknown person or persons spray painted graffiti onto a shed at Farewell Park with black paint.
A statement from the local detachment said that each year tens of thousands of dollars damage is done to businesses and other property by vandals who feel the need to express themselves in this kind of destructive manner.
If anyone has any information as to the person responsible for this, or any other vandalism, is asked to contact the local detachment at 250-837-5255 or Crime Stoppers at 1-800-222-TIPS.
Okay. It's easy to think this is much ado about nothing. But walk around downtown with your eyes wide open and you'll swiftly change your tune.
I cruised our downtown alleys last Friday with my camera and quickly ended up with 64 individual photos of the weird and often nonsensical spray-painted scrawls on walls, dumpsters and even telephone poles in the city core.
As most people — well those who actually follow local news — probably know, the City is once again trying to enforce the Unsightly Premises Bylaw provisions regarding graffiti. Under the bylaw, building owners have to clean up graffiti on their buildings and, if they don't, the City will contract someone to do that and then they'll bill the building owners for the cleanup.
Personally, I don't think that's very fair. Personally, I think the sniggering little jerks who get a charge out of damaging other people's property should be forced to pay for the cleanup. Or perhaps their parents should be given the bill.
But how do you find these twerps?
Here's a suggestion: A coalition of building owners should put up some reward money and offer it to those people who can drop a dime on the vandals.
Here's a selection of some of the graffiti downtown: