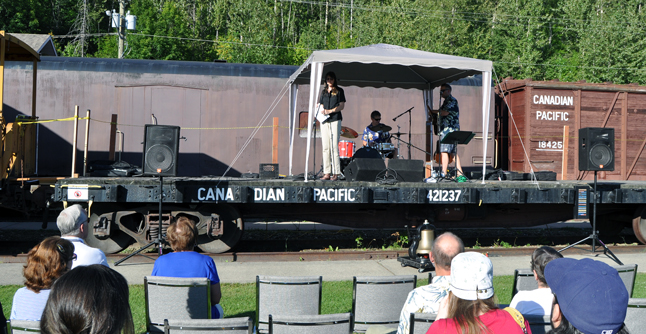 By David F. Rooney
The weather was perfect and the hot dogs were juicy and done just right at the Railway Museum's kick off of the 2012 Railway Days festival.
Jennifer Dunkerson, the museum's executive director told the crowd that attended the official opening Friday afternoon that, thanks to support from the Columbia Basin Trust and other partners, admission to all events — except Friday evening's dinner with guest speaker Robert Turner, a historian, author and Curator Emeritus at the Royal British Columbia Museum — is free.
At the dinner — and tickets for that can still be purchased for $25 from the Railway Museum — Turner will be doing an illustrated talk entitled The Last Steam Railways, Around the World.
"Half a century after the Canadian Pacific retired its last steam locomotives and sixty years after diesels replaced most steam at Revelstoke, the last working steam locomotives are running their last miles in mines, steel mills and plantations in distant parts of  the world," says a statement from the museum describing Turner's talk.
It said Turner has travelled the world to capture the people, machines and trades of the last working steam railways.
"His illustrated talk will take you to Inner Mongolia, far western China, Burma, Vietnam, Indonesia, Brazil, Paraguay, Pakistan, Syria, Zimbabwe, Botswana, Romania, Poland, Bosnia, Serbia and other countries," the statement said. "These are not  heritage railways, but places where steam still earns its way hauling coal, miners, molten steel, and  sugar cane. Within the next few years, they will all be gone."
In addition to Robert Turner, the dinner will feature a musical performance by the popular Cats and the Fiddle band.
Click here to view the full list of events, or scroll down for a quick synopsis of some of the main events:
Friday, August 17
9 am – 6 pm — Railway Witnesses Exhibition displayed at the Railway Museum (RRM). Click here for more information
9 am – 6 pm — Photo Contest Registration at RRM (this is a daily event)
10 am – 11 am — Coffee in the Business Car at the RRM (this is a daily event)
10 am – 5 pm — BC Interior Forestry Museum offers a glimpse into our forestry heritage (this is a daily event)
12 am – 4 pm — Midsummer Art Fair at the Visual Arts Centre at 320 Wilson Street (this is a daily event)
10 am – 6 pm — Salmon Arm Model Railway Club layout displayed at RRM (this is a daily event)
12 pm – 1 pm — Brown Bag History at the Revelstoke Golf Club
10 am – 5 pm — BC Interior Forestry Museum open (this is a daily event)
1 pm – 8 pm — Photo contest judging at RRM
5 pm — Dinner with speaker Robert Turner at RRM  Click here to view the poster.
Saturday, August 18
8:30 am – 1 pm — Farmer's Market at Grizzly Plaza
9 am – 6 pm — Photo contest judging at RRM
11 am – 3 pm — Family Day at RRM Click here to view the poster
11 am – 3 pm — Speeders at the Wye — CP Parking Lot on Victoria Road
2 pm — Heritage Panel Tour starts at the Community Centre
7 pm — Vintage Railway Film Night at the Nickelodeon
Sunday, August 19
11 am – 3 pm — Speeders at the Wye — CP Parking Lot on Victoria Road
12 pm – 3 pm — Vintage car show at RRM
2:30 pm — Photo Contest Winners announced at RRM
3 pm — Railway Museum Raffle Draw at RRM Click here for more information
6: 30 pm —Sharon Shook sings at Grizzly Plaza