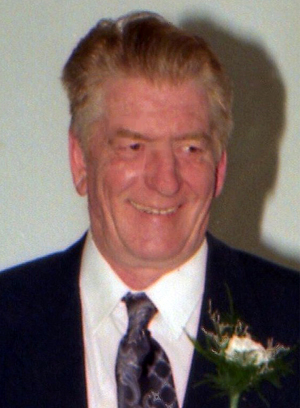 It is with great sadness we announce the passing of John 'Jack' Byers.  He was a devoted son, spouse, father, grandfather, brother, uncle, cousin and friend.
A Memorial Service will be held at the Revelstoke United Church on Friday afternoon, August 10, at 2 pm with Mr. Gary Sulz officiating. Honorary pallbearers are Gord Dale, Brian Eaton, John MacKenzie, Jim Floyd, Gary Krestinsky, John Kavalinas, Brian Dowdall, Roly Holowaty, Bob Johnson and Ray Dhillon. In lieu of flowers, memorial contributions may be made to the Canadian Cancer Society, 1633 Pandosy Street, Kelowna, B.C. V1Y 1P6 or the Heart & Stroke Foundation, Box 2088, Revelstoke, B.C. V0E 2S0, in memory of Jack.
Jack was born in McAuley Village, Manitoba, on March 16, 1942. Jack moved to Revelstoke in 1968 and started working at the Texaco station as well as Ken Taylor Motors before he took on a full-time position as mechanic and welder for the City of Revelstoke.
For many years Jack also volunteered his time at the Fire Department, and through the years of service he walks away from there with not only good time and memories and comradery but, many good friends as well.
After Jack retired from the city he enjoyed his retirement and decided to go back to work full time for Napa Auto Parts. He has shared many good times and memories from working there as well. There was also a debate between Napa and Stay Cool Radiator of who could harass their fellow co-workers more.  However, the results of that debate are still unknown at this point.
Jack was an avid hockey player and played for a commercial team as well as the Selkirks. The Selkirks enjoyed their reunions to not only catch up but reminisce about the old times. Jack also played baseball, golf, curling and enjoyed spending time with family and friends.
Jack is survived by his wife Eleanor; his two daughters Bonnie Byers of Revelstoke, and Heather (Thomas) Maddison of Revelstoke; four grandchildren Aleshia, Kaitlyn, Kristian and Matthias; brother-in-law Roy (Joyce) Rusch of Portland Oregon; sister-in-law Loretta Rusch of Portland Oregon; two sisters: Joyce (Wallace) Smith of Parksville and Judy Sens of Kamloops and one brother Garth (Bonnie) Byers of Abbotsford. He is also survived by nieces, nephews, aunts, uncles, cousins and well as a good host of friends.
We will forever cherish our fondest memories and hold them even closer and dear to our hearts.
Messages of condolence may be sent to the family by viewing Jack's obituary at www.brandonbowersfuneralhome.com.
Cremation arrangements are in the care of Brandon Bowers Funeral Home, Revelstoke.