Advertising  Feature
Looking for a taste of something different at a long-familiar local restaurant?  The Ol' Frontier Restaurant changes its menu every Friday night offering patrons the kind of home-made Indian food that its owner, Matt Singh, grew up with.
And, wow, is it good!
"These are all dishes I grew up with," Singh said as I loaded my plate with Butter Chicken, Chicken Tandoori, Mango Coconut Salad, Biryani and Prawn Coconut Curry.
It's quite a switch.
For years, The Frontier has been best known for its burgers, sandwiches, meatloaf, pork chops, ribs, spaghetti and other hearty North American-style meals. So Indian buffets are a decidedly different kind of culinary offering
And to think it all started with a bus load of hungry Indian doctors who were scheduled to stop at the restaurant, located at the intersection of The Trans Canada Highway with Highway 23N. They wanted something other than the regular menu and, perhaps inspired by the situation, Singh asked if they'd like an Indian buffet.
"Sure enough — everyone liked it so I did it again," he said.
Inspired by the appetite for his Indian food, Singh decided to offer it on a regular basis, Friday evenings at 6 pm.
"It's turned out quite well," he said.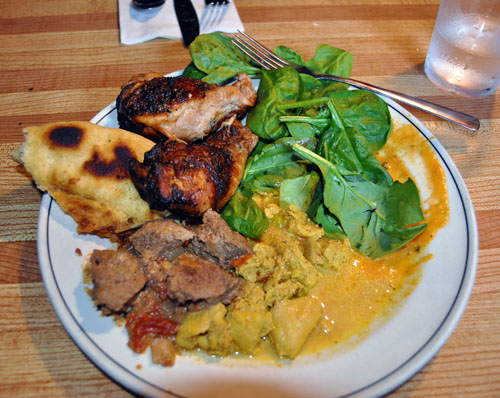 It sure has. I found Matt's Butter Chicken to be a deeply savory and mouth-watering dish, especially with the home-made Naan bread and Mango Coconut Salad. I also sampled the Tandoori Chicken and Lamb Rogash Josh. I found all of these dishes to be flavourful think any one of them was worth the price of the buffet. The Tandoori Chicken, which is traditionally marinated in yogurt, lemon juices and spices, was good and the Lamb Rogash Josh —  lamb curry recipe that originated in Persia was excellent. As for the Butter Chicken, it was rich and velvety and had the right amount of chilli pepper heat.
If hard work, effort and commitment are rewarded in life, then Matt Singh and the Ol' Frontier certainly deserve a medal.
Their Indian buffet has started Singh thinking about other kinds of buffets… perhaps a comfort-food buffet with offerings like pork chops and meatloaf.
Just the thought of it makes me want to loosen my belt by a notch.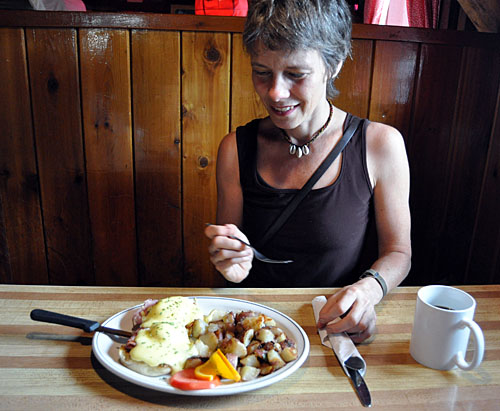 Another new addition to the menu that Singh is particularly proud are his home-made Eggs Benedict.
I visited the Frontier a Sunday morning or two ago with a friend and she thought they were among the best she has had,
"These are really flavourful," said Laura Stovel. "The sauce is perfect and the serving of ham is very generous. Look they come with fried potatoes, too."
Alas! I am not an Eggs Benedict man, but I do like pancakes and very much enjoyed the Frontier's Buttermilk Pancakes with maple syrup.
Breakfast at the Frontier, it seems, is as good as its new Indian Buffet.
"I tell everyone, 'Just come out and try it — you'll enjoy it,'" Singh said.
I agree.
The Frontier is located at the intersection of the Trans-Canada Highway with Highway 23N. Call 250-837-5119 for reservations.
Click here to visit their website, see their menu and order online for home delivery.