By David F. Rooney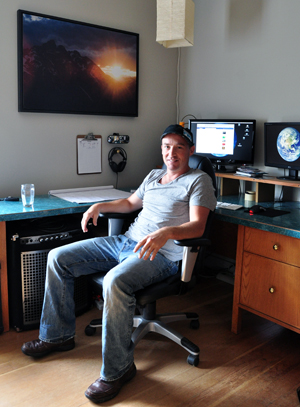 Revelstoke filmmaker Frank Desrosiers has worked for years to build a reputation as the kind of guy who will go anywhere and work insanely long hours on almost any project with a smile on his face. That kind of work ethic is paying off for him as he just completed a gig handling the lighting, sound and camera work for a documentary on the Country Music Awards in Nashville.
"It was an amazing experience," he said in a recent interview. "It was definitely an eye-opener and I sometimes felt like a fish out of water. Here I was in this place where everyone wore cowboy hats and boots and I was just a French-Canadian boy with a beanie. It was a different world from Revelstoke."
Frank said he and the rest of the production team rented "a multi-million dollar house and… interviewed people for 15 days straight. I was working 12-hour days and when we weren't interviewing people at the house we were downtown shooting B roll. B roll is a term for the supplemental or alternate footage intercut with the main shots in an interview or documentary.
"It was the experience of a lifetime," he said. "Will it be my last opportunity? I don't think so. This was a real stepping stone for my career."
Over the last several years Frank has come a long way from the day several years ago when he was almost killed in an avalanche. He recovered even though the incident broke most of the bones in his body and he still spends a lot of time each winter working in the backcountry. He knows that his professional success depends on his personal willingness to work long, hard hours to establish himself as a filmmaker and videographer.
Click here to learn more about Frank and his company, FD Productions.
Here are some photos from Frank's recent gig south of the border, which he expects will be broadcast this autumn: