By David F. Rooney
Some morning in late August, Revelstokians will wake up and find that one of the things they've taken for granted over the years — the colour of the Provincial Courthouse dome and roof — will be completely changed once work crews have finished repairing the cracks and holes that threaten the structure.
The Heritage Commission has recommended that the colour be changed to a hue called Mint Green, which Commission Chairman Mike Dragani believes is the best one for the copper-sheathed roof.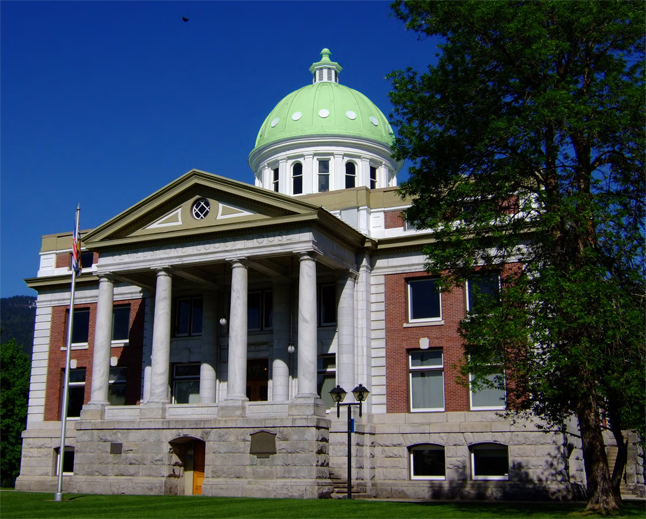 "It's the closest colour we've seen to the green you get with naturally oxidized copper," Dragani said.
Heritage Commission members agreed and so did most members of Council contacted by Darren Komonoski, operations manager for the Engineering and Public Works Department.
He said everyone who had so far seen it agrees and the Mint Green colour will, be the colour selected for the roof when a crew goes onto the roof to repair cracks and holes that threaten the courthouse roof's internal structural integrity.
"We don't yet have any punky or rotten portions of the interior structure," he said. "And that's why we really have to move on this."
He said tenders are being sought for the actual roofing work. Whichever roofing company gets the contract must use a Kemper Systems  elastomeric membrane.
Work is expected to begin after the Civic Holiday in August and completed by the end of August, Komonoski said.
Back in July 2011 when the issue was first raised at the Council table Councillors were leaning towards an all-copper solution.
At the time, it had budgeted $300,000 for the project and it put the roof repair job out to tender including both the installation of an elastomeric membrane and the copper replacement option. An elastomeric membrane is an acrylic membrane that would coat the existing copper roof, sealing the areas that are deteriorating. An elastomeric membrane would cost about $150,000 and would last about 20 years. A new copper roof was originally estimated to cost about $313,000 but would last at least 80 years, which was the length of time the original roof lasted before it required repairs in the 1990s. However, the actual cost of an all-copper roof is estimated to be between $313,000 and $650,000. The City has also received $50,000 towards this project from the Columbia Basin Trust.